10 Farmhouse Fireplace Mantel Decor Ideas
Looking for farmhouse fireplace mantel decor ideas? Check out these ten farmhouse fireplace ideas, sure to fuel your inspiration fire!
They say all you need to light a fire is for a spark to catch, and as we welcome in a fresh new season, many of us feel that interior designer itch to change things up. Therefore we find ourselves searching for that "creative spark" to inspire us. I don't know about you, but now that all my holiday decor is put back in boxes, I keep staring at my fireplace mantel with an itch to transform it. 
For some of us, myself included, decorating the center display of the house (aka the mantel) can be a real challenge! Maybe you've bought two items that you know would look great on your mantel, but I haven't thought about how they would go together. Or maybe you haven't found any free time yet to sit down and plan it.
Well, the good news is, whether you're in need of a "mantel makeover" or you're just looking for references for your next decoration challenge, these ten farmhouse fireplace mantel decor ideas are sure to fuel your inspiration fire!
This post contains some affiliate links for your convenience; read the full disclosure policy.
How do you decorate a mantel?
Decorating a mantel is like painting a blank canvas; there's a myriad of distinct ways that you could decorate a mantel, the choice is entirely up to you, and while there is no set "textbook" method to have a flawless mantel display, that's what makes it so fun! Your mantel display is unique to you and your tastes. 
Try taking a look at certain styles that interest you and let your imagination run wild. It doesn't have to be complex; maybe you start with a single framed picture on your mantle, and you let your creative side take over from that point on. 
There's almost nothing better than just going with the flow of art! Just remember, it doesn't have to be perfect on the first try. You may find after completing a design that you don't love it as much as you originally imagined you would. The great thing about that is it teaches you more about your personal style, and you get to try again. 
Lucky for us, there is no right or wrong answer when it comes to decorating a fireplace.
What looks good on a fireplace mantel?
As they say, "beauty is in the eye of the beholder," so what looks good to someone else may not to you. It's a case of personal preference. What you love is what you love. You are the one who's going to be looking at the mantel the most after all, so my recommendation is simply to have something you enjoy seeing every day. 
If you're struggling with where to start your design, start with an inspiration piece- for example, a candle in a candle holder- and just work the rest of it from there! Or scroll down for ten farmhouse fireplace mantel ideas that have inspired me. 
Related To: 15 Votive Candle Holder Ideas
How do you style a long mantel?
There are various ways you can approach this matter. But, I think the best way is to start by making measurements so you know how much space you have to work with. Once you know that, use your space wisely, depending on your desired look. Framed artwork is a great way to style a long mantel, but that can get both pricey and repetitive. Try going with a mixture of items and use differing height and sized items to your advantage. 
For example, maybe you love the idea of putting a beloved family photo on your mantel. You could put it with some small signs or mix in some flora. It isn't easy to style a long mantel, but the more you practice it by switching things up and seeing what works for you, the better tuned you'll be to your own taste in furnishings and aesthetics.
You'll find a myriad of ideas below to help you fill the space of a long mantel!
10 Farmhouse Fireplace Mantel Decor Ideas To Get You Thinking
1. Rustic Farmhouse Fireplace Mantel
If you're searching for a more rustic farmhouse look, with some chipped white decor pieces and a hint of fresh green to liven it up, then this rustic farmhouse fireplace is just what you need!
2. Birch Farmhouse Mantel Decor
Integrating birch is a great way to incorporate wood into a farmhouse style without going overly "forest." It will keep a room looking clean and open while still keeping that countryside feeling.  
3. Cozy Spring Farmhouse Fireplace Decor
This cozy spring look displays warm brown and deep green tones that are easy on the eyes. The cursive sign is also a great way to add a touch of elegance to the rural farmhouse aesthetic.
4. Simple Farmhouse Fireplace with Wheat
If you're on the hunt for an easy-to-achieve look, check out this simple farmhouse mantel that uses wheat as a subtle but perfect accent to a big center statement piece.
5. Farmhouse Mantel Decor using Garland
One of the best compliments to any size mantel is a garland, and this decor idea adds just that! The pale green tones of the leaves on the garland blend in perfectly with the light wood furnishings that are brimming with a welcoming aura.
6. Effortless Farmhouse Mantel with Candles
For anyone who doesn't always have the time to do a full design and decorating session on their mantel, this effortless 10-minute farmhouse mantel primarily uses items that are either easy to get, or you already have in your home. 
So, if you're looking for a time-saver, this is the one for you! And if you want to make your own candles to display on your fireplace, don't miss our DIY candle making guide. 
7. Easy Minimalist Farmhouse Fireplace Mantel
Mirrors are a great mantel statement piece as they can go with just about any holiday or season based on your accent pieces. This is both super-efficient and cost-friendly. Compared to big statement pieces that are usually the most expensive piece in a mantel design. 
Whether you stick with this easy minimalist farmhouse idea or use a mirror in a completely different way, your mantel is essentially an empty canvas to paint.
8. Farmhouse Mantel Decor with Picture Frames
If you're a sucker for those sweet family photos, I assure you, you're not alone. If you're wondering if it's possible to work family portraits or framed photos into a mantel decor design, I'm here to tell you the answer is a resounding yes! 
From using antique images to your favorite family photographs, there is no end to what you can create in a farmhouse mantel display with framed photos. 
9. Chic Farmhouse Fireplace Mantel Decor Idea with Pottery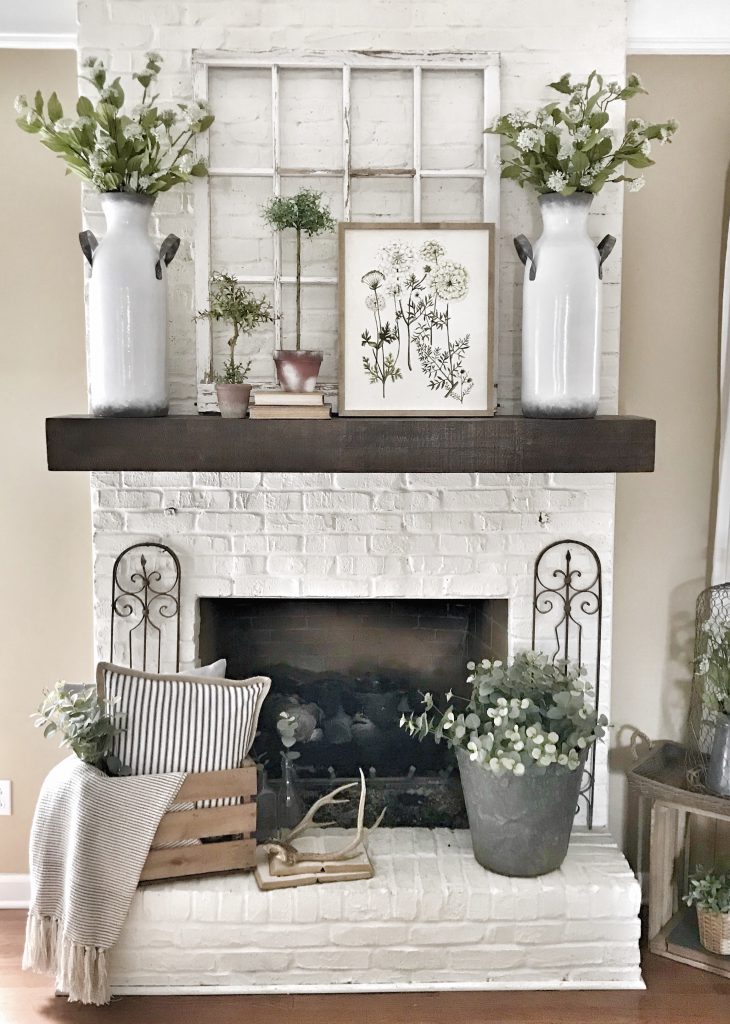 Using pottery pieces in your design is a great way to switch up the usual farmhouse decor items and add your own personal touch. Pottery comes in all shapes and sizes, and you can even DIY it by adding a piece to your mantel that has your unique stamp on it, unlike anyone else's! 
Does that pique your interest? Check out how to work unique pottery art into a chic farmhouse fireplace mantel design!
10. Modern Farmhouse Fireplace Mantel
This modern farmhouse mantel idea keeps it trendy and simple by adding in darker colors, such as navy blue, on the centerpiece and choosing to keep the rest natural tones. Doing so gives the navy blue decoration much more of an impact on the space. It's a simple and easy-to-follow design while keeping that farmhouse charm.
So there you have it! It's easier and way more fun than you may think to decorate your farmhouse mantel! Whether you're in a brand new house or have been staring at the same fireplace mantel for years, it's never too late to try something new!
MORE FARMHOUSE IDEAS:
Did you give one of these farmhouse fireplace mantel decor ideas a try? Tag #farmhousechicliving on Instagram to share it. And don't forget to pin your favorite fireplace mantel photos now!