15 Votive Candle Holder Ideas You'll Love in Your Modern Farmhouse Too
Looking for candle holder ideas? Stop here with these 15 creative candle decorating ideas for any space!
I always want our home to look and feel inviting and comfortable. So, I'm often, thinking up new ideas for decorating our modern farmhouse that not only commits to my goal but is also something I can create or repurpose. 
Candles easily fall into both categories. When soft candlelight greets guests at the door or flickers on the coffee table or kitchen island while you flow into conversation with a friend, how can you not feel welcome and comfortable? 
I mean, who doesn't love candles for this reason alone?
If you ask me, there's nothing cozier than a grouping of candles. And these creative candle decorating ideas for votive candle holders are easy to DIY.
This post contains some affiliate links for your convenience, read the full disclosure policy.
How do you decorate votive candles?
For all of us candle lovers we know just how pricey candles can be. This is why I love not only making my own candles but decorating with votive candles. They are inexpensive compared to container candles and pillars. 
Plus, basic white soy votive candles can fit any style with creative votive candle holder ideas. And votive candles that come in glass jars like these can be wrapped in a variety of ways. Not to mention, with a splash of paint you can create candle holders to match your decor, wedding, or party theme. 
No matter your reason for searching for votive candle holder ideas or wondering what do you put a votive candle in, you're sure to find an idea that will stand out from these 15 projects! 
15 Votive Candle Holder Ideas for your Modern Farmhouse
If you love candles and decorating, then you have to make one of these do it yourself, candle holders! 
Glass votive holders can be found for next to nothing and if you are like me, you already have many of them just sitting around. With a number of different materials, they can easily be spruced up to fit in with any tabletop or vignette display. 
Projects range from super simple to detailed, but each is an inexpensive way to embellish and decorate plain votive candle holders into stylish decor for your farmhouse too. Here are 15 fresh candle ideas:
After the stylish marble and the cool concrete, there is now another "old friend" and is celebrating a revival as a new trend material: Terrazzo! Learn how to make these trendy terrazzo votive candle holders with modeling clay.
These gold votive candle holders are so easy to make and are guaranteed to make your table setting sparkle. I love the imperfect look and the additional texture the Epsom salt brings to these gold votive candle holders – they're just so pretty! Now to make a dozen!
I love easy little votive candle holder ideas like this. It's rustic and cozy with a hint of glam. These DIY Twig Votive Candle Holders are sure to bring some extra warmth to your farmhouse.
If you are on the hunt for a cheap candle holder idea you'll love these! Create them by combining your stashed mason jars with some painter's tape, spray paint, and a pretty candle. Then BOOM— candlelight up the wazoo.
Related To: Cinnamon and Spice Stove Top Potpourri Jars
Related To: Fall Candles for Farmhouse Fall Decor
This a super simple and inexpensive project that you can use for an upcoming holiday or anytime, really!  These DIY frosted votive candle holders are made from old yogurt jars (Yoplait by Oui jars). Such a great idea to repurpose don't you think?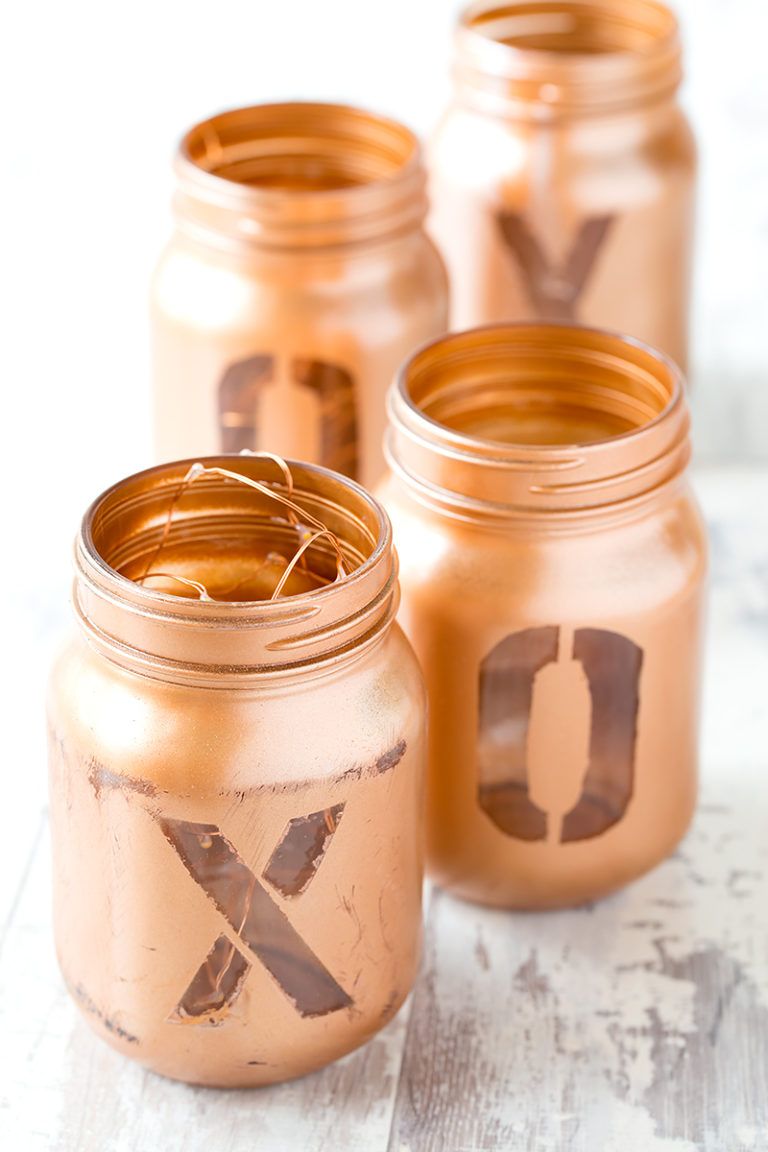 If you have a number of mason jars empty in your pantry too, why not give a few coats of copper paints to spell out a message with washi tape or masking tape. Be it XOXO, NOEL, JOY, or HOPE these DIY candle holders are fun and quick to make.
Nothing is better than sitting outside on a warm night with some pretty lit votives on the table giving you a bit of lovely dim light. These laced cement votive candle holders are perfect for summer nights spent outdoors (the best way to spend summer evenings!).
Can you believe these DIY Mercury glass votive holders started with a candle from a dollar store? They are so pretty (especially twinkling at night) and look just as nice as more expensive candle holders. The total cost is less than $1.25 a piece, so you could crank out a bunch of these at very little cost.
Start with a simple white candle votive from your local craft supply store. Then with one simple step give them an ombre finish. It's such a simple touch yet adds so much pop.
I may have saved the most creative votive candle holder idea for last. Transform spaghetti sauce or pickle jars into decorative cozy lanterns with free printable woodland images and a frosty glaze finish. 
YOU MAY ALSO LIKE:
Candles are one of those things I think we all enjoy. They make our farmhouse always feel inviting and comfortable. And these creative candle decorating ideas for votive candle holders really make them stand out. Which is your favorite? 
Pin these 15 creative votive candle ideas now, so you'll never run out of new ways to decorate with candles. Tag #farmhousechicliving on Instagram to share your decorating with us.