Farm Fresh Pine Candles: The Perfect DIY Christmas Candles
Nothing says Christmas like the smell of fresh-cut pine invoking memories of snowy woodland walks, handmade evergreen wreaths, and decorating the Christmas tree. These farm fresh pine candles are the perfect DIY Christmas candles! 
Separated only by cornfields and cow pastures our family farm neighbored a Christmas tree farm. It was a working dairy farm converted into a Christmas tree farm. In the barn now hangs dried flowers, herbs, and evergreen wreaths. Where the milk was once stored is now a quaint little shop only open a few weekends a year with handmade fudge, truffles, and more. 
Growing up we always had a real pine tree grown at the neighboring farm. And trees that were a bit scruffy we made into Christmas wreaths. That magical smell of fresh pine greeted at the door and around the hearth every season. To this day, whenever I smell pine I think of those memories on the farm.
This post contains some affiliate links for your convenience, read the full disclosure policy.
Carrying on the Tradition with Farm Fresh Pine Candles
As a newlywed many years ago, I sought to carry on the tradition. Living in a high rise in Chicago proved to make it difficult. If you can picture bringing a poking evergreen tree up the elevator and down a long hallway or removing pine needles from carpet, then you know what I mean. After a few years, my husband and I agreed it was the fresh scent of pine that we loved the most about having a real Christmas tree. Which then began my quest to find the best pine-scented candles. 
As it turns out, most I found was a blend of Christmas candle scents such as pine and sweet vanilla or warm cinnamon, clove, cedar, and pine. What is the best pine-scented candle? I've found making my own pine candles with real pine oil brings the smell of freshly cut pine trees indoors. Either pine essential oil or a phthalate-free pine candle fragrance oil works best. 
You can experience the magical smell of the Christmas tree farm too with these DIY Christmas candles! They are fun to make and the cheerful green color in little glass jars makes them a festive gift too. 
Related To: Farmhouse Candle Supplies
Related To: Quick Start Guide to Candle Making
DIY Christmas Candles
The pine candles are the perfect DIY Christmas candle. The fresh pine scent is a holiday favorite that can be enjoyed throughout the fall and winter months. And if you have an outdoorsman in your life the scent will have them remembering all their outdoor adventures or pining for more, no pun intended. 
Not only do they smell amazing, but they also look adorable in gift baskets and your friends will love adding one to their holiday decorations. Space 3 or 5 across your holiday dinner table or mantel with stockings hung below. 
Anyone can make these farm-fresh pine candles to spread Christmas cheer. You'll find a step by step candle making tutorial for the best pine-scented candles below.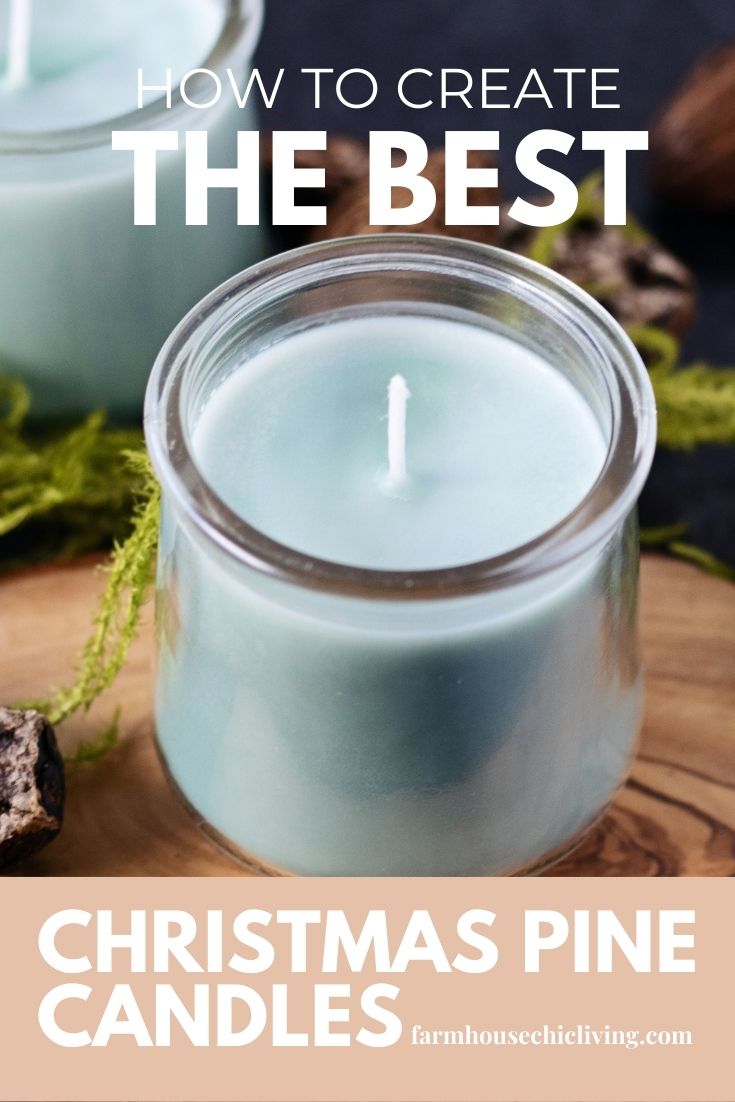 How Do You Make Pine Candles?
This candle making tutorial is easier than you think. You can make these pine candles in no time at all using this step by step guide on how to make candles. Make a two or make a dozen and give them as gifts this holiday season!
CANDLE SUPPLIES:
12 ounces soy wax flakes
1-ounce pine candle fragrance or essential oil
2 yogurt jars
.25 oz green candle dye block 
Step by Step Candle Instructions:
1. place each wick
First place the candle wicks in the center of each yogurt jar. Use a wick sticker tab to strongly secure each wick. 
2. measure candle wax
Second, use a kitchen scale to measure 12-ounces of soy wax flakes to make 2 pine candles.  If you're not using yogurt jars calculate how much wax you need with a candle wax calculator. 
3. melt candle wax
Pour the wax into a candle melting pitcher. Place the pitcher inside a large saucepan filled with about 2 inches of water. Using this double boiler method, heat on medium to low heat with gentle simmer, no higher than 185°F degrees. 
Clip a candle thermometer inside of the pitcher to monitor or check it often with an infrared thermometer. Use a heat resistant silicone whisk to stir often and speed up the melting. Never leave the wax unattended.
4. add candle color
After melting the wax, turn off the burner and keep everything on the heat source. Add 1 green candle dye block which is typically ½ ounce to the wax and stir frequently until it is melted. 
You can control the intensity or shade of color you want by using a butter knife or soap knife to cut and divide the dye block in half or into fourths. (DO NOT use food coloring as it will not mix into the wax and cause clumps.)
5. cool and add scent
Check to make sure the temperature of the wax is cooled to between 125°F to 120°F before adding 1 of ounce pine candle fragrance or pine essential oil. Then stir constantly for 1 to 2 minutes to thoroughly incorporate the scent. 
6. pour into jars
Gently pour the green pine-scented wax into each glass yogurt jar. Place a centering device over each wick to help keep them in place during the curing process. 
Before trimming each wick allow the pine candles to cool 30 minutes to 1 hour. The wax should appear hard. Trim each wick to about ¼ an inch.
Candle Burning Tips
I don't know about you, but I want to get the most out of my homemade candles. Use the candle burning tips to get the most out of yours too!
Do not light your homemade candles until they have cured for 24 hours. 3 days of curing makes for a really strong scent!
The first time you burn your candle, let the wax melt to the edge of the container to avoid candle tunneling.
Trim the wick to ¼ an inch each time before burning your candle. This keeps the candles' flame from getting too high and self-extinguishing.
Burn your candle for no longer than 4 hours at a time to get the longest burn time, extending the life of the candle. 
YOU MAY ALSO LIKE:
I love how these farm fresh pine candles turn out every time! Each is made with real pine oil and the green color adds the festive appeal. Creating a handmade gift of fresh-cut pine in a jar. 
Pin these steps on how to make the perfect DIY Christmas candles and tag #farmhousechicliving on Instagram to share your candle making with us.