Decorating With Cinnamon Sticks: Farmhouse Style
Decorating with cinnamon sticks farmhouse style with unique home decorating ideas you can duplicate. Simple cinnamon stick crafts you can make for your home.
Growing up, I always thought cinnamon was strictly holiday-bound. However, life on the farm has taught me so much about this unique spice. It's more versatile than people give it credit for being. Everyone knows you can use cinnamon in recipes, but one day I wondered, what about cinnamon sticks in everyday decor?
I recently got the honor to attend a wedding in a restored farmhouse where cinnamon sticks got to play a role in the reception decoration. That got me thinking; not only can cinnamon sticks be used for unique decorations or in the winter, cinnamon sticks indeed can be a star all year round!
So, if you need a change of decor in the fall or your holiday festivities have left you with more cinnamon sticks than you care to cook with, here are some simple and clever decorating designs you can duplicate!
For your convenience, this post contains some affiliate links; read the full disclosure policy.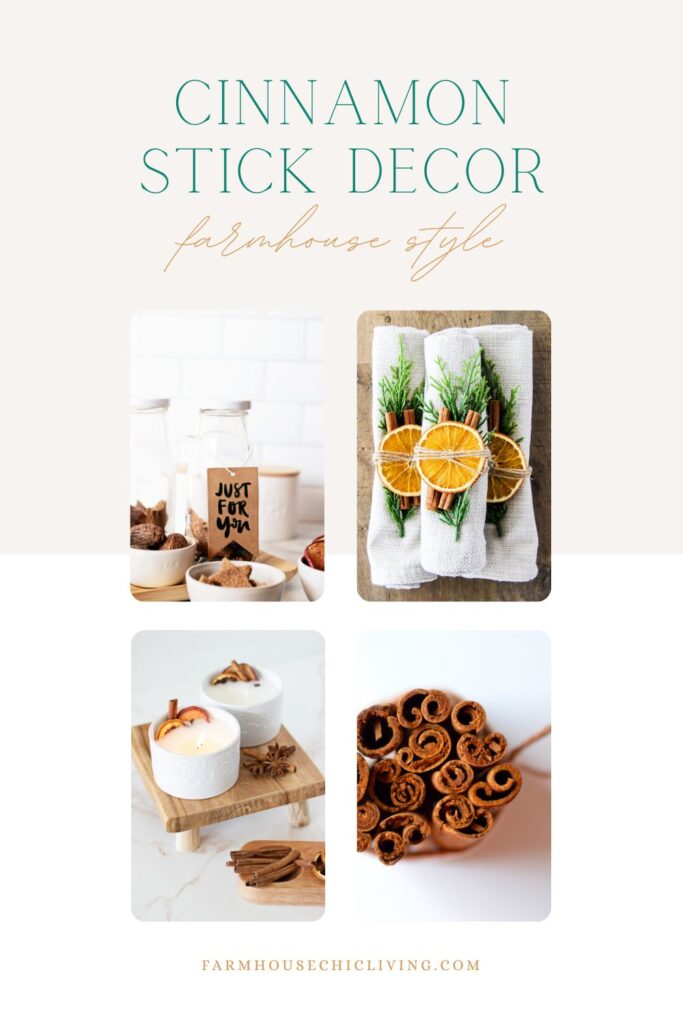 Can I use cinnamon sticks for decoration?
The easy answer is yes! You can absolutely use cinnamon sticks for decoration! Not only does it carry the beloved cozy scent to waft through your house, but every aspect of cinnamon can also be a great addition to any farmhouse. From candles to centerpieces and so much more, cinnamon sticks can be used in various ways to spice up your interior. Talk about a win-win!
Related To: 10 Farmhouse Fireplace Mantel Decor Ideas
How do I make cinnamon stick decorations?
This probably comes as no shocker, but cinnamon sticks are the main thing you'll want on hand. Lots and lots of cinnamon sticks. You can find them in the spice at your local grocer, but those can be costly. You can get a lot more from craft stores or Amazon like these that you don't intend to eat. 
But no matter how many cinnamon sticks you have, there are more than enough cinnamon stick DIYs to decorate your farmhouse in the magical spice.
Some of the things you can make include chic napkin ring holders for every formal or casual dinner you'd like. Not your style? Spice it up with a pumpkin spice candle mug!
And if you're worried these projects will be challenging, don't be! Working with cinnamon sticks is a lot easier in DIY than in cooking. Just trust the process and follow each step, and you'll have an amazing cinnamon stick DIY in no time!
Related To: Votive Candle Holder Ideas
Delightful Farmhouse Style Cinnamon Stick Decorations
Cinnamon, pumpkin spice, and everything nice pull out your stash of sticks and follow along to get the how-to on decorating with cinnamon sticks, farmhouse style!
Stove Top Potpourri Jar
If you're feeling creative and you happen to have some time on your hands, this is, without a doubt, one of the most enjoyable cinnamon DIYs! Not to mention one of the prettiest. I guarantee you'll enjoy every step of this stovetop potpourri jar DIY.
Cinnamon Stick Candles
This cinnamon stick candle DIY is not only easy to make but can be done with any candle! Plus, it smells incredible and makes for a great craft if you have a stash of cinnamon sticks you don't know what to do with.
Mini Pumpkin Spice Candle Mug
Some say pumpkin spice is only for fall; I say pumpkin spice is for all year! Seriously, this mini pumpkin spice candle mug is so cute and smells so divine; I dare you to try not to put it up until fall!
Orange and Cinnamon Stick Napkin Rings
What says farmhouse more than these aesthetic orange and cinnamon napkin rings? Perfect for everyday and special events and super easy to make! You'll love them whether you've made napkin rings a hundred times or never before!
Fall Candle Bowl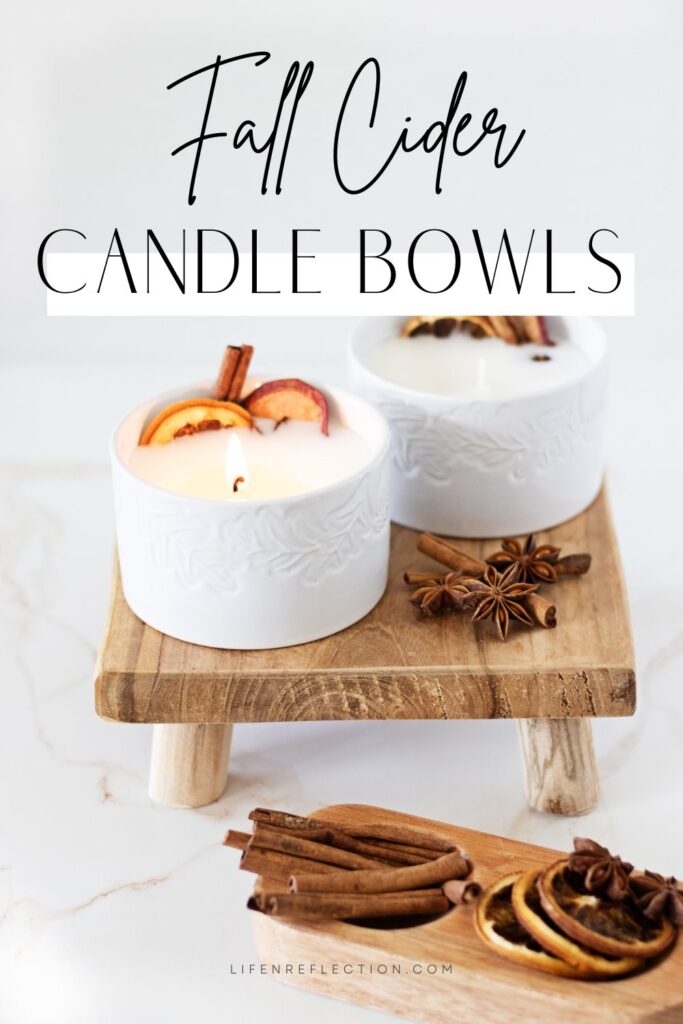 Are you looking for a new centerpiece? This one-of-a-kind fall candle bowl is ideal for anyone looking to spice up their decor or just need a little change of pace. Not only that, but it is also an eye-catcher that will have your guests wondering where they can get one!
It's just that simple! Don't be afraid to get crafty and creative, and let your cinnamon stick ideas run wild! Who knows, you may come up with something totally your own!
MORE FARMHOUSE IDEAS:
Pin these easy techniques on how to decorate with cinnamon sticks! Tag #farmhousechicliving on Instagram to share your natural cleaning tips with us.