Easy Floating Candles DIY: How to Make a Candle Float
These easy floating candles are the best DIY on how to make a candle float! See this quick tip for floating candles in water to make floating candle centerpieces.
It's that beautiful time of the year again when the birds are chirping, bees are buzzing, and flowers are blooming everywhere. You guessed it – spring is in the air, and I can't help but bring the outdoors in.
Since planting a redbud tree indoors isn't feasible, there's nothing better than delicate blooms and candles to bring spring inside! And who doesn't love the look of floating candles?
This floating candles DIY project is all you need to add beauty and an instant atmosphere for springtime. See how easy it is to make floating candle centerpieces with flowers for your home, garden party, baby shower, or wedding. 
You can create this look in just a few simple steps when you learn how to make floating candle centerpieces with this easy candle hack!
This post contains some affiliate links for your convenience; read the full disclosure policy.
How can normal candles float in water?
Well, most normal candles can't float on water. From my experience, a candle that has a smaller base with a wide top will float very well. Steer clear of those round ball-shaped floating candles because they seem to spin and flip as they float, which leads to their wick extinguishing.
What about tea lights? Do tealight candles float? Yes, most tea light candles will float. But, they won't last long in the water if their wax is too soft and can extinguish easily if water reaches their wick.
The good news is we've got the best DIY tip on how to make a candle float!
Related To: Votive Candle Holder Ideas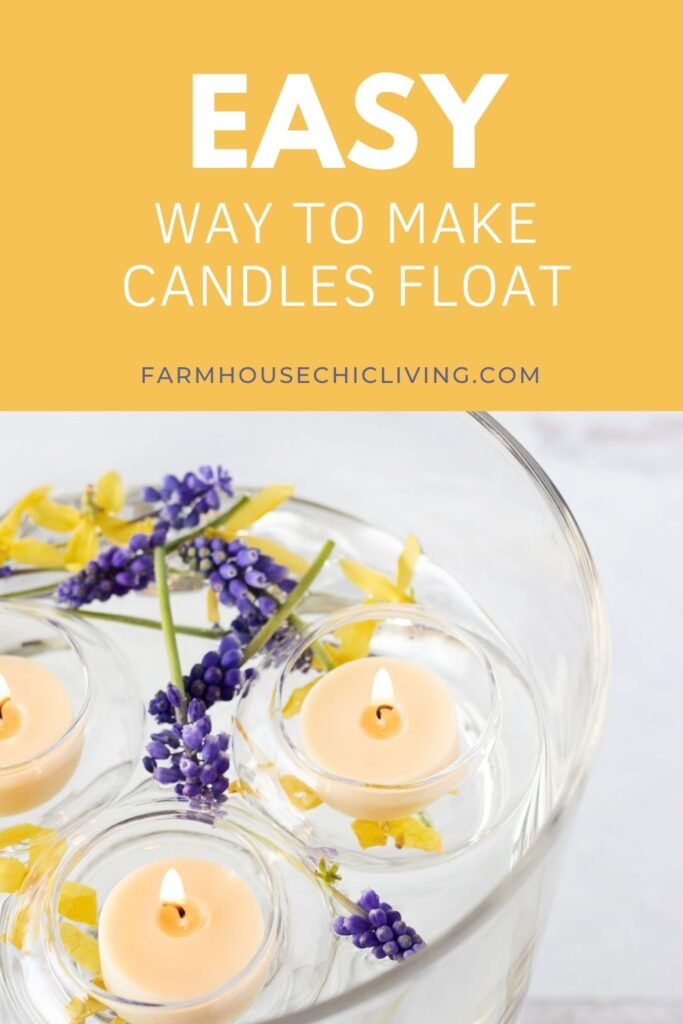 How To Make a Candle Float
If you want to know how to make a candle float without buying floating candles, then you're in luck! This quick tip for floating candles in water is the easiest way to make floating candle centerpieces.
All you need to make a candle float are these clear glass floating candle holders for tea lights. They are the best solution for floating candles in water. And these candle holders solve several issues many of us have had with floating candles.
Why Use A Floating Candle Holder?
You can avoid floating candles flipping over. Their flat design ensures they will stay afloat. 
The wick and flame are protected from the water. So, your candles will keep burning until you put them out.  
You don't have to worry about candle wax melting into the water and causing a mess to clean up. Instead, the candles melt only inside the glass holder. 
So, if you wanted to know, "can I use tea lights as floating candles? The answer is an absolute "YES" when you use floating candle holders. Seriously, DIY doesn't get any easier than this DIY floating candle hack. PERIOD.
If you would like to make floating candles instead, then check out my tutorial for how to make floating candles with soy wax.
Related To: DIY Sugar Mold Candles
How do you make floating candle centerpieces?
Here's how to make floating candles out of tea lights with just a few supplies. You'll see how easy it is to create a beautiful centerpiece of floating candles in water for your farmhouse table!
Floating Candle Centerpiece Supplies:
1 clear glass container
10 flower stems or blooms
How to Make a Floating Candle Centerpiece:
The first step to making a floating candle centerpiece is to choose your container: It should be clear and large enough to float at least one candle. I chose my antique dessert bowl given to me years ago by a friend's mother. Can you use any glass bowl for floating candles? Sure, as long as it doesn't leak and it can fit a floating candle; you can use it.
Second, decide what you want to put in a floating candle vase: Think about the season or colors you want to feature in your floating candle centerpiece. I added cheerful yellow and purple flowers my daughter picked from our hillside garden. I let her add them to the water in the bowl. But, in hindsight, I would recommend using flower heads or petals instead of leaving the stems on.
Next, place tea lights in floating candle holders: Decide how many candles you want floating in your centerpiece and place a tea light in each floating candle holder. 
Create your floating candle centerpiece: Now that you have everything ready – add your flowers to your container. Then pour water three-fourths full into the container. Next, add each floating candle and carefully light the centerpiece. 
If you are looking for a touch of candlelight to brighten your home or a special occasion, look no further than these easy floating candles DIY!
Why not make a floating candle centerpiece for your next dinner party? Think about other things you could put in floating candle vases, such as branches, toys, or colorful fruit. There's truly no end to what you can do with floating candles!
YOU MAY ALSO LIKE:
Pin this easy floating candles DIY and Tag #farmhousechicliving on Instagram to share your decorating with us.