Farmhouse Lavender Garden Ideas
These creative farmhouse lavender garden ideas are guaranteed to inspire even those without a green thumb to plant lavender because we're answering all the questions about growing lavender and sharing our favorite lavender DIYs too!
With its lovely vivid purple hues and soothing scent, there's no doubt that lavender is a favorite flower of many. Lavender is enjoyed in a variety of ways; as an essential oil, as a color, as a scent, and in its pure form- a flowering herb! Perhaps growing a lavender garden is the best solution for those of us who can't seem to keep enough lavender on hand. 
Why not start a lavender garden? Perhaps you're thinking the same way but don't know where to start. Even if you are not the greenest thumb of the bunch, have no worries! We're here to share inspiration and tips for starting your lavender garden. Nothing compares to walking in your very own garden of lavender, enjoying both the scent of the fragrant stalks and everything they offer.
Follow along as we answer all your questions about lavender gardens while sharing inspiration for yours and creative lavender DIYs!
This post contains some affiliate links for your convenience; read the full disclosure policy.
Where does lavender grow best?
Believe it or not, lavender thrives in the arid west climate but is best grown as an annual or container plant in the south. Thankfully though, because of its popularity, lavender has been cultivated into different hybrids to help it grow throughout different climates than just hot and dry ones.
For anyone in southern climates where it's more humid, consider using the lavender hybrid Lavandula dentata or stoechas, a.k.a. FRENCH LAVENDER, as those varieties thrive better in a more humid environment. If you're up in a northern climate and wonder how to grow lavender, consider using the English hybrid of lavender named "Lavandula angustifolia." With a little extra patience, the proper protective procedures, and a lavender subspecies to fit your climate (if need be), you can grow lavender anywhere!
Does lavender need full sun?
As I previously mentioned, lavender LOVES the sun and thrives in the heat. So it should come as no surprise when I tell you that lavender needs full sun along with well-drained soil. This doesn't mean lavender always needs sun all day; afternoon shade may also help your lavender plant to thrive. When it comes to the sun, your best bet is to take your lavender and climate into consideration and work from there.
What is the best time of the year to plant lavender?
The answer to this question will vary based on what kind of climate you live in.
If you find yourself up north in a growing zone 6 or colder, it is recommended to plant in spring or early summer. In southern regions, zones warmer than 6, it is recommended to plant in early fall so that plants have time to take root during a cool, moist winter.
Does lavender come back every year?
The answer to this one is a simple YES! Lavender will come back to your garden every year for 3-5 years when properly cared for. That and the fact that lavender is a low-maintenance perennial (meaning it requires very little upkeep) makes it a great investment if you're looking to grow lavender for DIYs, recipes, or herbal remedies!
Related To: How To Dry Lavender with a Microwave Press
How do I make a lavender garden?
The first step to making a lavender garden is choosing the right spot. You want to make sure to optimize any usable space you have and decide from there where it would be best to plant your lavender. Prepare your soil, loamy soil is ideal, but with enough patience and work, you can make just about any soil work. 
Once you've picked your garden location, prepped the spot soil, and chosen the suitable variety of lavender for your garden, there's only one thing left to do… roll up your sleeves and get to gardening! 
If you are short on space, look to these lavender garden ideas –
Easy Vertical Herb Garden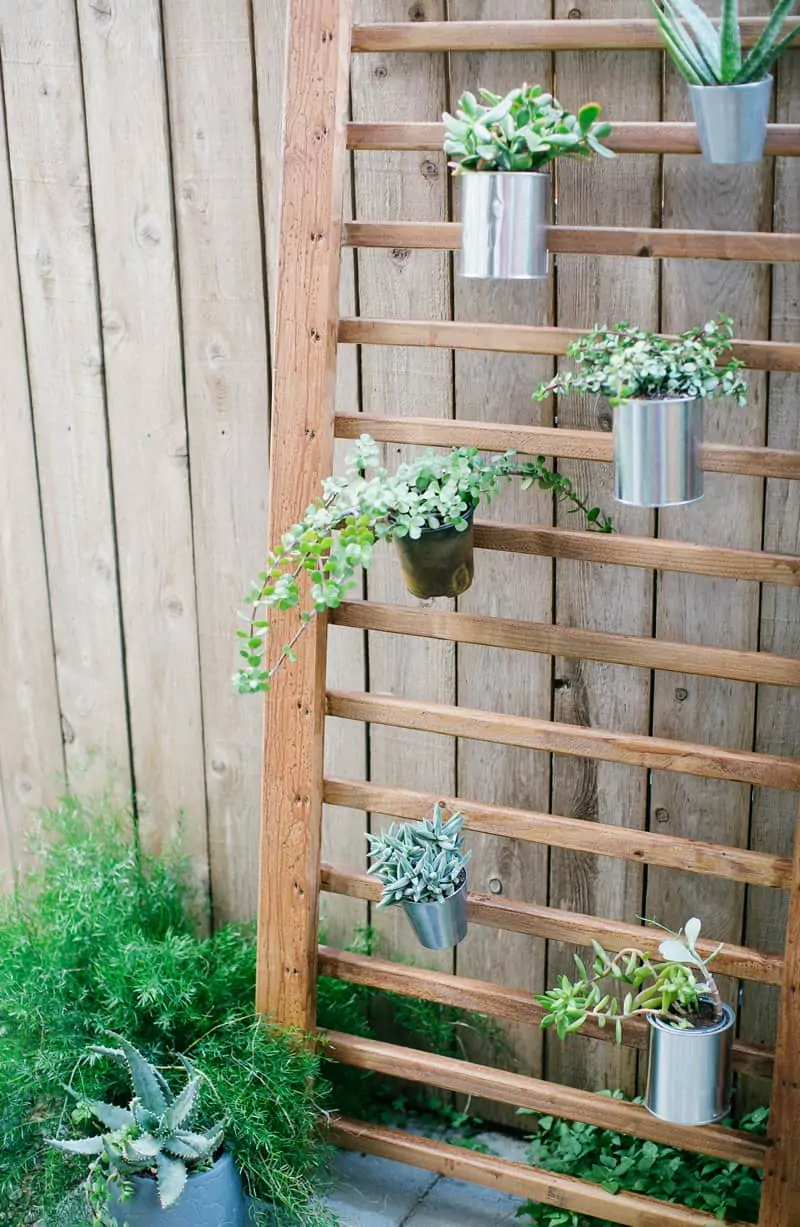 If you're just starting in the gardening world and you find the idea of making a big garden daunting, this garden idea will serve as a great alternative. The simplicity of this vertical herb garden makes it easy to put together and a great space saver!
Organic Container Herb Garden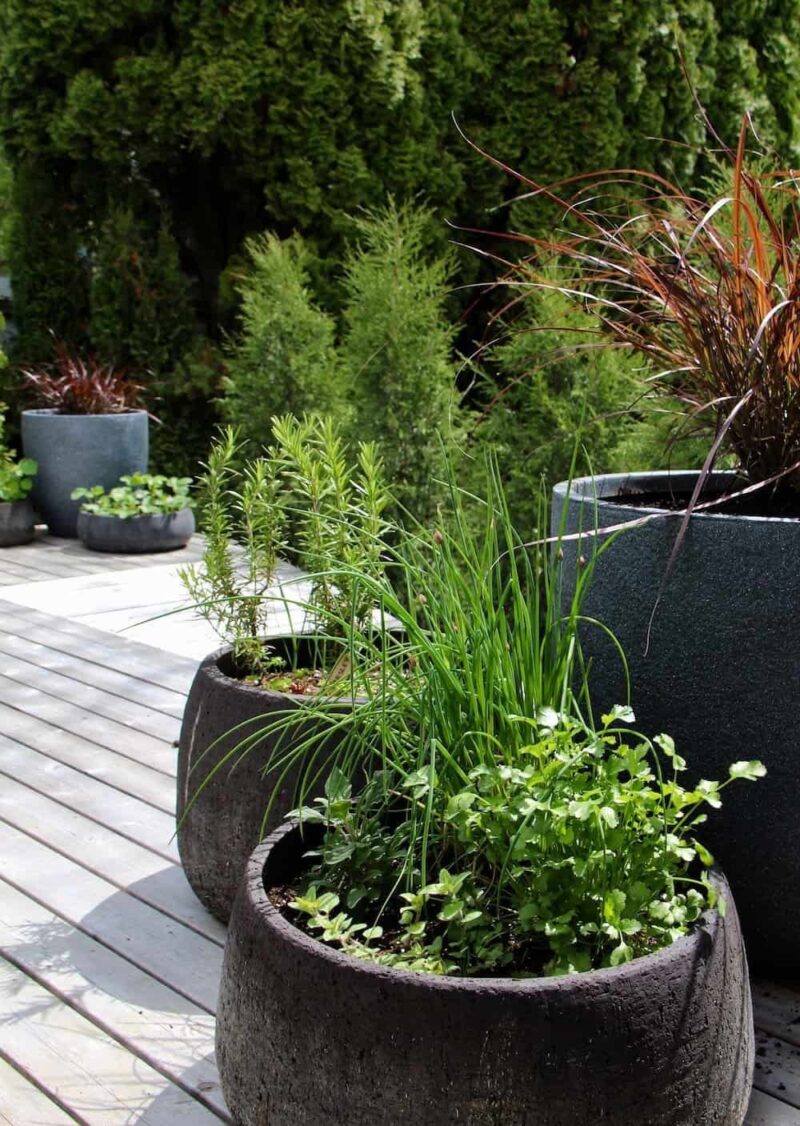 There's a multitude of ways you can go about making a garden, container gardens included! I think you'll love this organic container herb garden DIY. It gives detailed step-by-step instructions to help you easily set up your container garden no matter how much experience you have.
Now that we've dug in, it's time to let our creative juices flow. Once we've grown lavender, what can we do with it?
How do I use lavender in my garden? And what can I do with dried lavender?
Luckily for those of us who can't get enough of lavender, it has a multitude of uses and is one of the most versatile plants. While fresh lavender does have many uses, especially in culinary recipes, it is most often better used dried. I share when and how to harvest lavender, in addition to how to dry lavender here. 
To give you an idea, fresh and dried lavender uses include candles, bath salts, body butter, shortbread, potpourri, bath bombs, sugar scrubs, teas, homemade ice cream, lotion, various drinks, and so so much more!
Have we piqued your intrigue into the wonderful world of lavender DIYs? Well perfect! Because it's time to get into the best part!
Related To: How to Use Press Lavender Flowers
Creative DIY Farmhouse Lavender Garden Ideas You Won't Want To Miss
DIY Lavender Milk Bath
Lavender essential oil is so calming, and when added to a milk bath, it makes for a skin-soothing treat! By combining powdered milk, baking soda, and lavender essential oils, I've been able to create an easy version of a lavender milk bath. It takes just a few minutes to make and is perfect for a long hot bath!
Lemon Lavender Sugar Scrub
If you're looking for a lavender scrub that you can use daily or for a special occasion, let me tell you this is the one. Treat yourself to some deserved rest and relaxation with this homemade lemon lavender sugar scrub!
Dried Flower DIY Capsules
These tiny capsules may be small, but they have a big impact! With a variety of uses, these dried flower DIY capsules can preserve flowers from your lavender garden and vacation or wedding. They are an easy and adorable way to preserve memories in a bottle.
Lavender Whipped Body Butter
This lavender whipped body butter with shea butter, cocoa butter, and lavender essential oil is an easy-to-make lavender garden idea. It creates a dreamy, fluffy, and rich body butter that smells amazing and looks pretty!
Lavender Infused Sugar
If you've only enjoyed the heavenly aroma and beautiful color of lavender blossoms, it's time to enjoy the flavor too! This simple DIY for lavender infused sugar adds flavor to iced tea, fruit, desserts, and more. And it is so easy to put together using fresh or dried lavender.
DIY Herb Drying Rack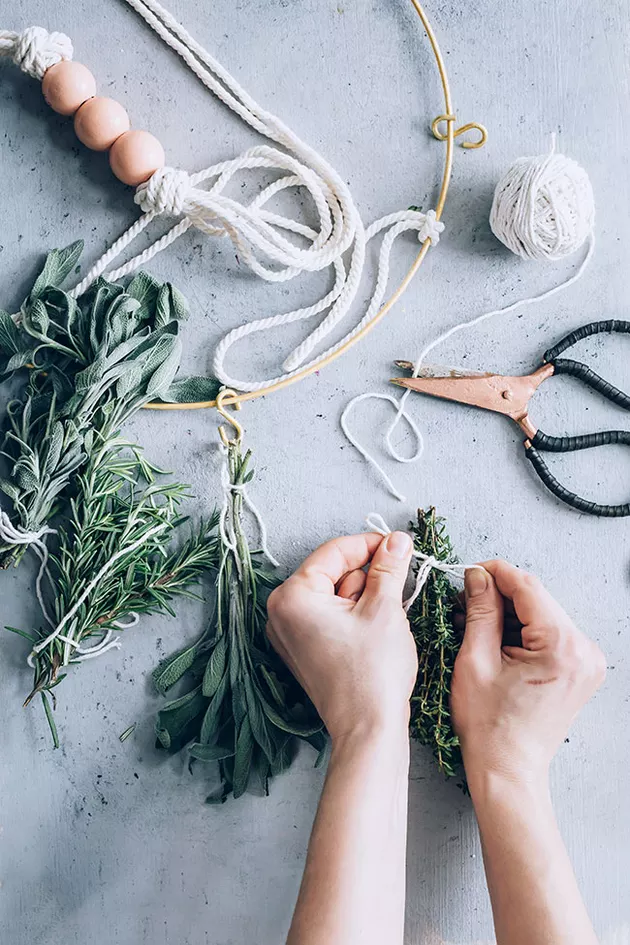 If the thought of drying your lavender after growing it appeals to your visual senses, but you're not quite sure how to go about drying it in a pretty way, don't worry! This DIY herb drying rack is easy to make and simply beautiful.
Lavender Bath Bomb Recipe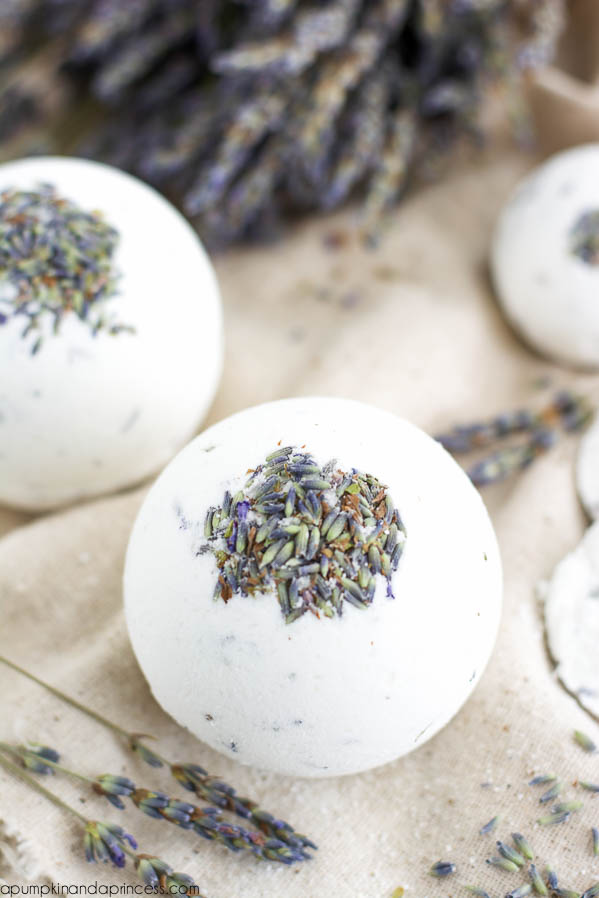 Who doesn't love a relaxing bubble bath with an essential oil infused bath bomb? Whether you're a bath bomb addict or are looking for last-minute gift ideas, this lavender bath bomb recipe is a must-try. Infused with lavender essential oil and dried lavender flowers, you'll find yourself relaxing after a long day with this easy DIY bath bomb recipe.
French Lavender Sachets
I love creating beautiful things for our home and handmade gifts with lavender. It's so versatile and suits almost everyone; you can't go wrong with lavender. Let me show you how to make lavender sachets with a few simple supplies. 
Lavender Travel Candle Tins
While the whole purpose of taking a vacation is to relax, just traveling by itself can get stressful. If you've been searching for a little stress reliever you can easily take with you anywhere you go; this lavender travel candle tin is your answer!
Easy Lavender Scouring Powder
This lavender scouring powder brightens and lifts stains from our farmhouse sink with ease. This lavender idea is made with easy-to-find, inexpensive ingredients. And it takes just a few short minutes to make and can be easily adapted for ingredients you already have on hand. It's another simple lavender cleaner I put to work regularly!
DIY Lavender Bath Melts
These DIY lavender bath melts will make your skin feel silky smooth and super hydrated. Bath melts are basically the creamy, soft cousin of bath bombs. They do exactly what it sounds like: you drop one in the bath, and it melts! 
Herbal Lavender and Linen Popsicles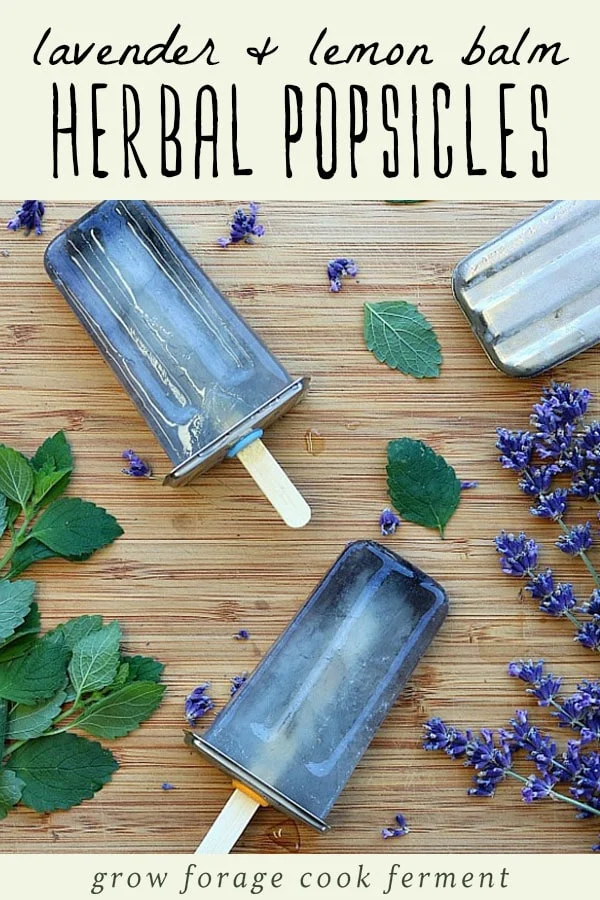 These lavender and lemon balm herbal popsicles are not only delicious and refreshing, but they also have benefits for your health too. The best part about any homemade popsicle is that you get to choose what goes in them and the amount of sugar they contain. Plus, these herbal popsicles are super simple to make.
Linen Lavender Eye Pillows
Close your eyes and breathe in the calming scent of lavender with these DIY linen lavender eye pillows. Enjoy them warm, cool, or at room temperature as you lay back and relax under a pillow of lavender. 
Homemade Lavender Bath Salts
A lavender bath is excellent for relaxation, stress relief, and aching muscles. See how to make a homemade lavender bath salts recipe at home in this quick beauty DIY. The step-by-step tutorial includes tips for packaging, storage, and free printable labels.
Lavender Fabric Refresh Spray
Our homemade lavender fabric refresher spray is a simple method for keeping your mattress clean in between deep cleanings. It's effortless to make with less than a handful of ingredients and can be applied directly to your mattress, pillows, bed linens, and most other fabrics in your home.     
And there you have it! You can make so many things with homegrown lavender – dried or fresh. Not to mention the million different ways you can make your lavender garden uniquely you. So, don't wait; start planning your very own lavender garden now!
MORE FARMHOUSE IDEAS:
Pin these farmhouse lavender ideas and DIYs now. Tag #farmhousechicliving on Instagram to share yours with us.