How to Make a Candle in a Cheese Mold Perfect Farmhouse Candle Decor
Here's how to make a candle in a cheese mold for the perfect rustic farmhouse candle decor! You'll find cheese mold DIY candles make a great centerpiece in your farmhouse decor.
Hand-carved and imperfect cheese mold candles have all the charm that a farmhouse candle warrants. Creamy, smooth scented soy wax and double crackling wood wicks say it all. 
This unique candle has become a popular accessory for rustic, traditional, and especially farmhouse decor. Like sugar mold candles, their reminder of yesteryear has an appeal many of us can't deny.
Each makes a beautiful addition to just about any room in the home. Layered on a bed of fall leaves, these wooden candles make an authentic autumn centerpiece.
If you ask me, wooden cheese mold candles speak C-O-Z-Y!
And now you can cozy up to one too with our instructions on how to make a candle in cheese mold.
This post contains some affiliate links for your convenience, read the full disclosure policy.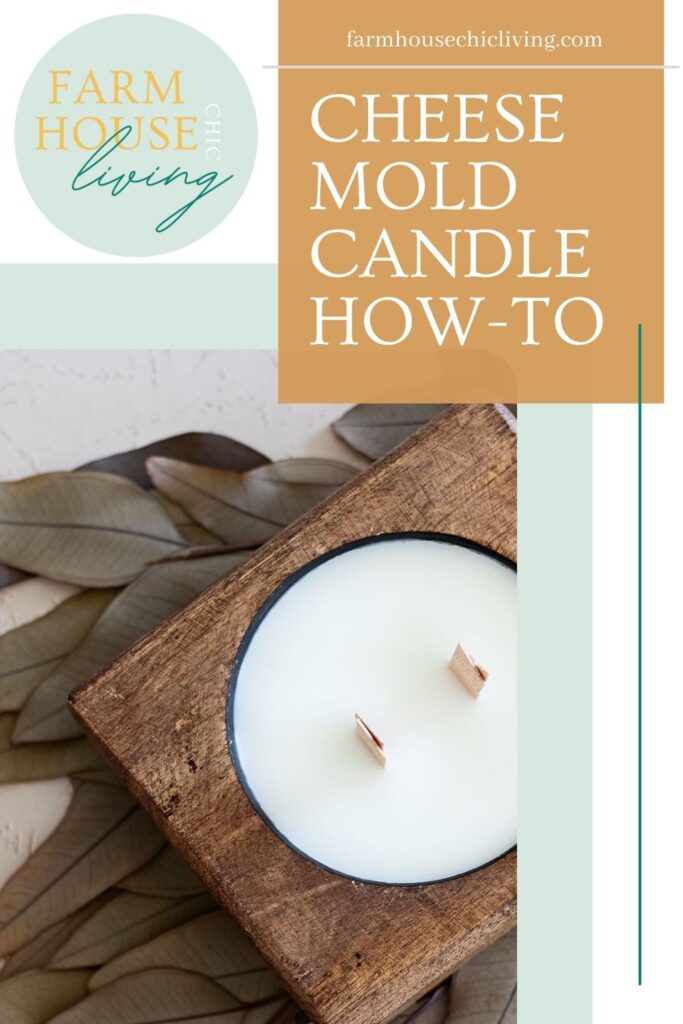 What makes cheese mold candles unique?
Obviously, it's the container that makes these candles so unique. Originally used to mold cheese each rustic brown container has a natural wood grain, scratches, and knotholes that make it uniquely characterized. 
Choose a one-hole cheese mold candle as I did for a candle size that will fit nicely tucked on a shelf, side table, or bookcase. Or pick a two-hole cheese mold made from pecan trees and distressed by hand for double the fun. And for a large centerpiece opt for a cheese mold made with three holes to display on your fireplace mantel, entryway console, or dining room table. 
No matter your choice, carved out of a heavy block of imperfect wood and filled with creamy smooth soy wax, cheese mold candles are the perfect pairing of farmhouse chic.
Related To: Farmhouse Fireplace Mantel Decor Ideas
How Do You Make a Candle in a Cheese Mold?
If you've made a container candle before it's not much different. There's just one thing you need to do first to make sure the cheese mold is safe to make a candle in.
That is a sealant. All wood containers need to be sealed with 100% waterproof sealant before pouring wax into them. If you skip this step, you put the cheese mold at risk of catching on fire. Because we all know wood burns well. 
But, once the cheese mold the sealant is dry, it's candle safe and ready to use. In fact, after sealing it can be used for a lot of things, not just a candle!
Related To: Easy Floating Candles DIY
How to Make a Candle in a Cheese Mold
Here's how to make a candle in a cheese mold for the perfect rustic farmhouse candle decor. You'll find cheese mold DIY candles make a cozy centerpiece in your farmhouse decor that you can't resist!
Candle Supplies:
1/4 ounce fragrance oil
.20 lbs pure soy wax
2 wood wick clips
Instructions to Make a Candle in a Cheese Mold:
Before you begin, cover your area with parchment or wax paper to place your cheese mold on top of it. Then gather all your supplies and candle-making tools. 
1. Seal It:
Wipe dust out of the cheese mold with a damp cloth. Then, check it for visible cracks in the wood. (Avoid using a cheese mold with cracks or large holes.)
Apply two heavy coats of 100% waterproof sealant with 30 minutes of drying time between each coating to make the cheese mold candle safe. 
2. Place Wicks:
Cut each wood wick in half at an angle creating 4 wood wicks. Then layer two wicks together and slip them into a wood wick clip. Stick a wick tab on the bottom of the clip and repeat for the second wick. 
Next, evenly space each wick from each other and the perimeter of the mold. Remove the sticker paper and firmly press the bottom of each wick tab into the base of the cheese mold.
3. Measure and Melt Wax:
Now, place a candle making pitcher on top of a kitchen scale. Tap tare and measure .20 pounds of pure soy wax. Place the wax-filled pitcher inside a saucepan filled with approximately 2 inches of water. 
Use the double boiler method to heat the wax on low up to 140°F. A no-touch infrared thermometer or inexpensive candy thermometer helps keep an eye on the temperature of the wax. Slowly, stir the wax often with a heat-resistant silicone spatula.
4. Add Fragrance:
Once the soy wax is completely melted, remove the wax from the heat source and, if needed, allow the wax to cool before adding 1/4 ounce of fragrance oil. (Makesy, formally Wooden Wick and Co make the best candle fragrances! I chose raw cinnamon and clove for this candle.) 
After adding your fragrance to the melted wax, constantly stir it slowly for 1 to 2 minutes to thoroughly incorporate the scent.
5. Pour Candle Wax:
Use the spout of the candle melting pitcher to pour the scented wax into the cheese mold, while making sure to avoid the wood wicks. Allow the cheese mold candle to cure for three to five days before lighting for a stronger scent. And don't forget to trim the wooden wicks to ¼ inch before each use.
MORE FARMHOUSE DIYS:
I know you'll agree these make a beautiful cozy addition to your farmhouse too! After you've learned how to make a candle in a cheese mold, you might find yourself making more.
Pin these steps on how to make a candle in a cheese mold to your best Pinterest board. And while you're there, follow Farmhouse Chic Living for more creative ideas. 
Did you make this? Tag #farmhousechicliving on Instagram to share yours with us.