Farmhouse Handmade Gift Ideas
Farmhouse handmade gift ideas you'd love to receive! Find unique farmhouse gifts you can make for any occasion.
There's almost nothing as satisfying as making a gift with your own hands and then watching that gift being received with a joyous smile. Plus, if you're on the receiving end of that gift? It means so much more than any store-bought gift could. Lots of work and love goes into making something by hand, and that makes anything infinitely more memorable. 
Handmade gifts are excellent all year round. Whether for seasonal holidays or birthdays, there isn't an occasion that a handmade gift isn't perfect for. Sometimes though, the hard part can be coming up with something to give. You can know a person for three months or three years and still struggle with what to get them. 
Don't worry! Whether you're prepping for mother's day or have a birthday party to attend, we've got the best handmade gift ideas straight from the farmhouse!
For your convenience, this post contains some affiliate links; read the full disclosure policy.
What handmade gifts can I make?
Whatever the event, there's always a handmade gift perfectly fit for giving! From signs and decor jars to wreaths and candles, the list of handmade gifts you can give is endless!
Of course, this can all be dependent upon the gift-giving event too. For example, something with pressed flowers would make for a beautiful mother's day gift, and something bath or candle related can make for an ideal Christmas or bridal gift. Here on the farm, we believe with the right instruction and willpower; you can make just about anything, which is exactly what we're about to show you!
Related To: Votive Candle Holder Ideas
From sugar scrubs to coasters and bath jars galore, there's an unending list of incredible handmade gifts that will put a smile on anyone's face. I personally think that gifts made with the hands are also made with the heart, and what better way to express love than to make a personal gift with your hands and heart? 
So roll up your sleeves and get ready for the best handmade farmhouse gift ideas for any time of the year!
Farmhouse Handmade Gift Ideas Perfect For Any Occasion
Find unique farmhouse gifts you can make for any occasion in this gift ideas list. I promise each is a handmade gift you'd love to receive! We'll skip the melted crayon, cheap plastic, and flimsy paper crafts.
DIY Monogram Pressed Flower Art
One of my favorite decor pieces to use around my home is flowers; they come in a variety of colors and are seasonally versatile. Whether you've pressed flowers a hundred times or are new, this Monogram Pressed Flower Art is an easy-to-follow DIY that makes for a beautiful and elegant gift for any woman in your life!
DIY Hand Stamped Coasters
Who doesn't love a good coaster? I know I do! These DIY hand stamped coasters are stylish, fun to make, and can be made anytime! Say goodbye to rings on your side tables and hello to fresh farmhouse coasters!
How to Make a Candle in a Cheese Mold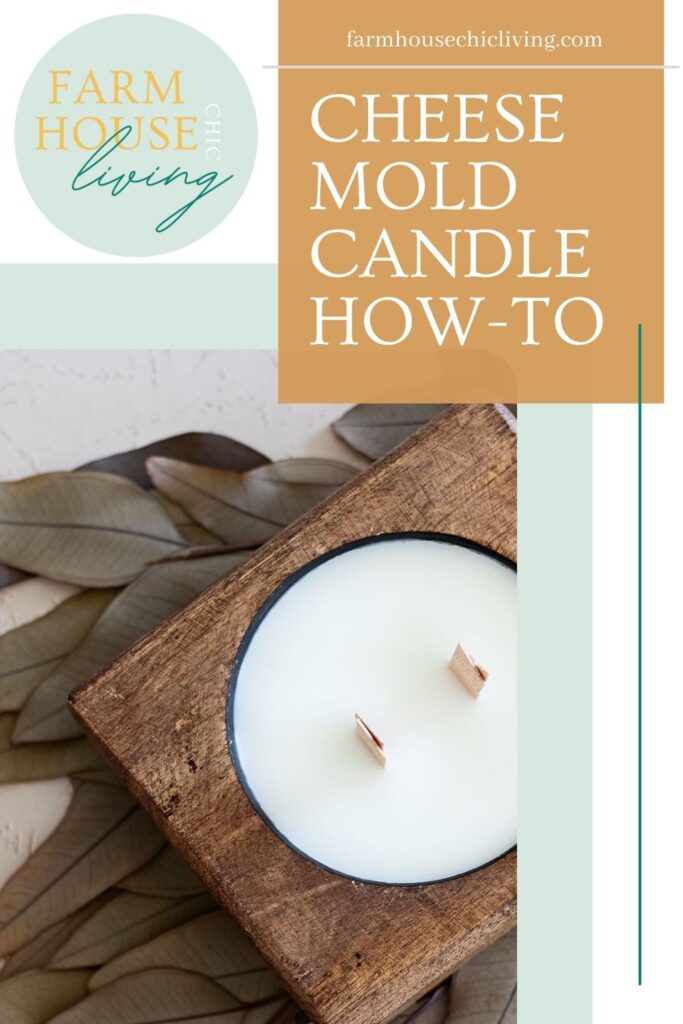 This candle in a cheese mold DIY makes for a unique and magnificent centerpiece and is absolutely perfect for anyone who can't get enough rustic farmhouse style.
Jasmine Lavender Milk Bath Jars
Nothing says luxury quite like having a nice long and relaxing spa day all to yourself. Sometimes just a bath bomb doesn't cut it, though! If that's you, these lavish jasmine lavender milk bath jars are exactly what you've been wanting.
Cranberry Vanilla Sugar Scrub
Whether you've used sugar scrubs before or have never tried one, I can guarantee you've never used one like this! This cranberry vanilla sugar scrub not only smells divine but also leaves your hands so soft you'll be wondering why you didn't try it sooner!
Coffee Candle Mugs
The best thing about a coffee candle mug is that you get to enjoy that irresistible smell of a fresh roast over and over, and it makes for a chic, one-of-a-kind gift that anyone will love (especially those coffee fanatics)! 
Best Farmhouse Pantry Labels
If you know someone that loves organization, then you'll know that everything has a place and belongs in that place. The pantry, though, is one of those places where organization can get lost easily. 
Make organization the perfect gift for every event with these farmhouse pantry labels! Pair with some gorgeous glass storage jars for a stellar gift. 
No-Sew Farmhouse Pillow Covers
Throw pillows are great for adding style and depth to a room, but finding them can be a hassle, and they're not very cost-effective most of the time.
On the other hand, making them is not always easy, which is why this no-sew pillow covers DIY is perfect for gifting to any farmhouse lover! Add a monogram for the perfect personalized gift idea!
Farmhouse DIY Lavender Candle Melts
Is there a scent more beloved and soothing than lavender? I certainly don't think so! These lavender candle melts are perfect all year round when you need a little serenity and relaxation.
Lemon Meringue Pie Soap
Have you ever had the chance to try a lemon meringue pie? If you have, you'll know why I was so ecstatic when I first made this soap. Imagine every time you wash your hands smelling that citrusy sweet bliss of a lemon meringue pie. This lemon meringue pie soap is seriously so easy to make that you wish you had tried it sooner!
Dried Flower Capsules
If you're looking for a unique gift that perfectly fits into a gift bag, these dried flower capsules are not only easy to make and beautiful to look at, but they'll have you wanting to make a myriad of preserved flowers for every season!
Easy Garden Apron DIY
Everyone knows to use an apron in the kitchen, but what about an apron in the garden? It can really come in handy more often than you may think. That's where this easy-to-make garden apron DIY comes into play! Who said an apron couldn't be made out of IKEA towels?
So what are you waiting for? Get creative with these handmade gift ideas because there's no time like the present to pull out those DIY tools and get to crafting! Use this list of gift ideas to make and what you already have in your home as inspiration. 
MORE FARMHOUSE IDEAS: