Quick Hot Cocoa Bar Ideas, Recipes, & Toppings
You'll love these quick hot cocoa bar ideas with an easy hot cocoa recipe and more than 25 hot cocoa toppings for the ultimate cup of hot chocolate!
Who doesn't love a delicious cup of hot cocoa!? 
Our hot cocoa recipe has been a staple on our family farm for generations. My father shares memories of my grandmother handing him a cup of homemade hot chocolate after sledding adventures in the cow pasture and around the bonfire every autumn. When my father married my mother, she sweetened the recipe like most things, and we've been enjoying it ever since. 
Nowadays, we bring out this treasured family recipe for the season in a hot cocoa bar! It's actually pretty low maintenance once you set it up and a definite crowd-pleaser. 
Want to create a hot cocoa bar or hot chocolate station to be enjoyed all season too?
This post contains some affiliate links for your convenience; read the full disclosure policy.
What is a hot cocoa bar?
A hot cocoa bar also called a hot chocolate station, is essentially an area designated for mixing up cups of hot chocolate. It includes everything you'd need, such as cups, spoons, and all the creative hot cocoa toppings you can imagine! 
It's a fun seasonal way to let friends and family create their own decadent hot chocolate, a favorite among kids and adults. Similar to an ice cream bar, a hot cocoa bar allows guests to layer their own toppings once you've provided the main ingredient – hot chocolate, in this case. 
Guest can not only refill their own cup but can also try mixing different toppings. In turn, making a hot cocoa bar the best way to serve hot cocoa to a crowd. 
There are so many hot cocoa bar ideas, from simple to extravagant, and with the following tips, recipes, and unique toppings, you can create your very own! 
Related To: 15 Votive Candle Holder Ideas
Where's the best place to put a hot cocoa bar?
The best location to put a hot cocoa bar depends on your needs and space.
You can build a hot cocoa bar in a tray or across a charcuterie board that can be placed on a side table in the living room for watching movies, on your entry table as welcome refreshment for guests, or tucked into a corner of your kitchen for easy cleanup.
Or you could set up a rolling bar cart or have multiple tiers and layers on the expanse of a sideboard, buffet, or hutch.
See the creative hot cocoa bar ideas below for inspiration, and then find your perfect spot to gather supplies and establish your hot cocoa station.
How do you make a hot chocolate bar?
In other words, what do you put in a hot chocolate bar? Start with how you intended to make your hot cocoa, basic supplies such as cups and napkins,  and then choose from my list of over twenty-five unique topping ideas! 
1. Hot Cocoa Recipe
The first step in building a hot cocoa bar is deciding how you are going to make the hot chocolate. I'm not a big fan of individual hot cocoa packets, but they can be used along with a thermos of hot water. (Just be prepared for the trash they're going to create.) Instead, fill a jar with homemade hot cocoa mix and make a sign with instructions on how many tablespoons to add for much easier cleanup. 
Another option is to make hot cocoa ahead and pour it into a large thermos or slowly heat it in a crockpot. You could use milk, in this case, instead of water for a richer taste. 
2. Basic Hot Cocoa Bar Supplies

Basic supplies to include your hot cocoa bar include mugs (I love these copper mugs) or disposal cups. Spoons, stir sticks, or paper or reusable straws. You may also want to add a hot cocoa sign, labels, or tags. 
3. Hot Cocoa Bar Ideas for Toppings
What are good toppings for hot chocolate? There's really no set list of toppings for hot chocolate, but this list of more than twenty-five should cover it! Place each in mini mason jars, bowls, spice jars, or swing-top glass jars and bottles – so you can see them. 
Marshmallows – mini, colored, or flavored
Sprinkles – choose them to match your color palette or party theme
Chocolate chips – milk chocolate, white chocolate, or semi-sweet, chunks or mini chips
Crushed candy canes or mini candy canes for stir sticks
Mini Reese's peanut butter cups or peanut butter baking chips
Cinnamon sticks
Sea salt
Carame Sauce, soft gourmet caramels, or caramel bits
Chopped Andies mints
Chocolate dipped pretzel rods or golden pretzel sticks
Fresh mint leaves
Chocolate syrup
Ground cinnamon, pumpkin spice, or cocoa powder in shaker jars
Butterscotch chips
Vanilla, mocha, or hazelnut syrup designed for flavored coffee
Strawberry syrup or dried strawberries
Marshmallow toppers – classic snowflakes, snowmen, or seasonal Peeps are fun
Crushed toffee, Heath bars, or toffee bits
Shaved chocolate
Whip cream – try flavored whip creams too
Rock candy sticks or pop rocks
Biscotti
Related To: DIY Coffee Mug Candles
Hot Cocoa Bars Ideas For Setting Up Yours
Now that you've got your hot cocoa recipe, basic supplies, and loads of ideas for toppings, it's time to put it all together into a full-on hot cocoa bar!
Host a Hot Chocolate Bar Party Just for Fun
I don't know who wouldn't want to be invited to this party! Marzia shows us how to put together a hot chocolate bar party to make the most luxurious hot chocolate while barely lifting a finger. See how she does it here.
Build Your Own Hot Cocoa Bar: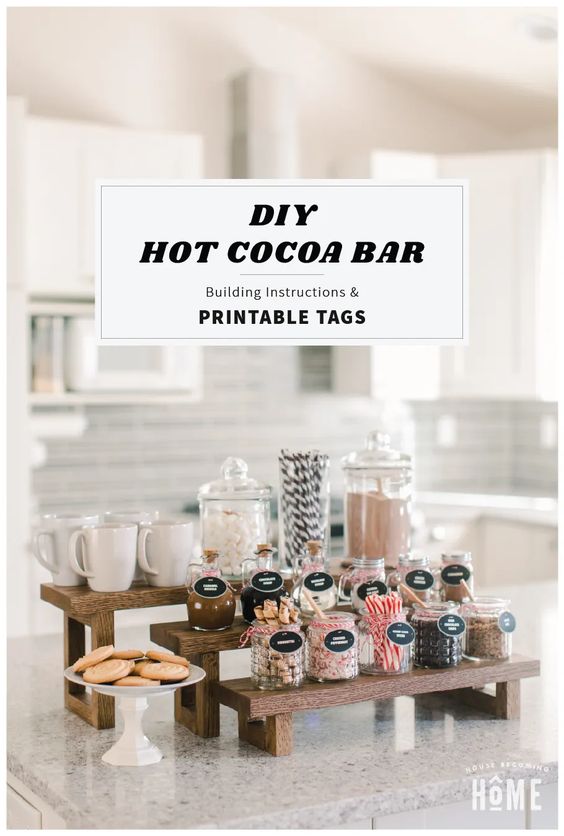 That's right; you can build your own racks for a hot cocoa bar with these instructions. You'll be able to display ALL THE THINGS to make a mug of hot chocolate just the way you like it. Use the station for holiday gatherings, at a winter wedding, or simply a night with friends and family. P.S. This includes hot cocoa printable tags for free too. 
Create a Hot Chocolate Station in Your Home:
When cold winter days are here to stay, create a hot cocoa station in your home. Kids will love having a friend over after school to share tasty treats and create their own custom hot chocolates! 
Winter Themed Hot Cocoa Bar Party Setup: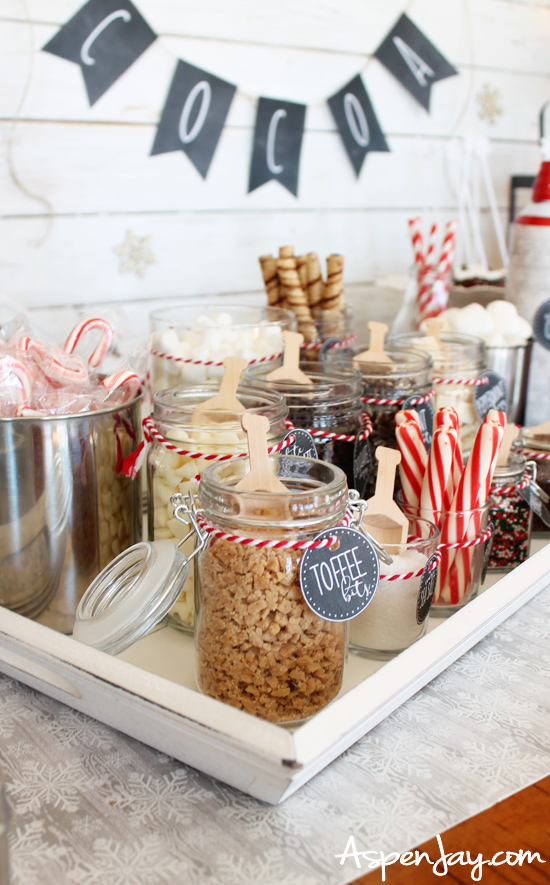 Hot cocoa bars are a great addition to any winter-themed party. Create the perfect low-maintenance hot cocoa bar with A.J.'s awesome ideas and helpful tips. And make sure to score her free printable hot cocoa banner. 
Bring a Hot Cocoa Bar Outdoors
Want to have a hot cocoa bar outside? No problem! With the help of insulated cups or mugs, you can enjoy a warm cup of hot cocoa made right outside with these tips. Everyone will appreciate a warm beverage in their hands.
YOU MAY ALSO LIKE:
Big or small, there's always room for a hot cocoa bar in the wintertime! Which one of these hot cocoa bar ideas is your favorite? 
Pin these 25 plus hot coca bars ideas now and Tag #farmhousechicliving on Instagram to share yours with us.