Farmhouse Fall Fireplace Decor Ideas To Inspire Your Fireplace Mantel and Hearth Style This Autumn
Don't miss these farmhouse fall fireplace decor ideas. They are all the inspiration you need for fireplace mantel fall decorating!
Fall is just around the corner – apple picking, bonfires by the woods, falling leaves, and pumpkin lattes, I'm ready for it!
As hints of the upcoming fall season begin to unfold (thank you, Target), it's time to turn our attention to one of the most beloved spaces in any farmhouse—the fireplace. 
Like most homes, the fireplace is a cozy spot for our family to gather around, especially during all the holidays ahead. It symbolizes warmth and comfort, creating a unique ambiance in our family room. So, decorating our fireplace for the season is a must!
Yet, I've always found myself challenged when our decorating the fireplace mantel and hearth. This unique space, long and narrow, often leaves me seeking fresh inspiration. Are you lacking ideas for fall fireplace decor too? 
If so, you're in for a treat because I spent hours searching for the most captivating and unique ways to decorate the fireplace for fall. From charming farmhouse fall mantel decor to creative fireplace decorating, I've got fresh ideas for it all! 
Discover how to transform this focal point into a captivating autumn display that speaks comfort and farmhouse charm.
I understand the allure of creating inviting spaces that reflect the beauty of the season. So, whether you're drawn to rustic pumpkins, dried fall flower arrangements, or cozy textiles, you'll find ideas that resonate with your farmhouse aesthetic.
With my step-by-step guidance and a showcase of fall fireplace decor inspiration, you'll be well-equipped to welcome autumn into your home with a fireplace that serves as a heartwarming centerpiece.
For your convenience, this post contains some affiliate links; read the full disclosure policy.
Related To: Fall Candles for Farmhouse Fall Decor
5 Steps to Decorating a Fall Fireplace
How do you decorate a fireplace for fall? Start here before you begin craving apple cider and pumpkin pie after scrolling through all the farmhouse fall fireplace decor ideas. These are the five steps I take to transform any space, fireplace included, to a fresh seasonal spin. 
Step 1: Dismantle
This step can be the hardest or the easiest, depending on how you feel about your current fireplace decor. But the first step in your fall decorating transformation is to remove EVERYTHING from your fireplace mantel, hearth, and all. 
(You may also consider removing what you have hung above the fireplace. I have a beautifully big round mirror from Hearth and Hand hung above our fireplace that stays in place.)
After removing all your items, give the area a good cleaning. And touch up any paint or grout in your fireplace surround. Then store any decorations that you feel are authentically summer, like seashells, and you're ready to move on to the next step. 
Step 2: Create A Mood Board
For me, this is the most enjoyable step to decorating our home – creating a mood board! The easiest way to create a mood board is with Pinterest. This is my Fall Home Decor board I save ideas to. Did you know you can follow it to see my new ideas?
Another way is to pull out your fall magazine stash or take a leisurely morning at Barnes and Noble, collecting ideas for your fall decor. But I'll save you the trip with a ton of ideas below!!
Step 3: Shop Your Home
Your spouse or dream vacation budget (New England Fall Tour anyone?) will definitely appreciate this step to shop your home. Put your boots on and head to the attic or basement in search of anything labeled FALL.
Also, look for things in your decorating stash and around your home that showcase autumn colors or motifs. Orange, rust, gold, leaf designs, and plaid are great examples. 
Whatever you find, bring it all together into one space. This usually ends up being our kitchen island. Last year, my daughter comically counted all the pumpkins I had and ended with a number in the upper 20s (eek). Ironically as it was, I remembered this when I saw cute pumpkins for sale and saved money.
Step 4: ReDesign
With everything gathered together, I consider what I could redesign, remake, or reuse for decorations. This easy fall DIY candle is one way I turned a plain candle into a beautiful fall display! You could apply the same technique I used to candlesticks, vases, wreaths, or stacks of books too. 
Step 5: Build Layers
Decorating is a lot like dressing for shoveling snow; you've got to work in layers. Start with your largest pieces and place them on our mantel or hearth. Hang anything new above the mantel and add garland if you're adding it (wait until you see the DIY fall garland I'm sharing). 
Next, add any medium-sized items such as vintage books, sugar mold candles, gourds, urns and vases, or good-sized pumpkins. Then stack and fill areas with smaller items, be it a trial of acorns, a row of mini candle mugs, or dried orange slices. 
And that's all it takes to decorate my favorite space in our farmhouse for fall! Keep these steps in mind when you put these farmhouse fall fireplace decor ideas to work.
Related To: Decorating With Cinnamon Sticks
The Best Farmhouse Fall Fireplace Ideas
I'm so excited to share these fall fireplace decor ideas with you. I know they'll ignite your creativity and infuse your home with the warmth and charm of autumn. Each celebrates the hues and coziness of the season while adorning your hearth in true farmhouse style.
Antique Fall Pear Mantel Idea
Liz Marie says this fall fruit always catches her eye in home decor. I adore the warmth and coziness pears can lend to fall decorating too. The unique ombre of colors in a simple pear looks just like the changing leaves of autumn. Add pear branches to your mantle to showcase this fall fruit!
DIY Fall Swag Above The Mantel
This DIY fall swag is stunning! But Amber says she gathered branches from a tree in her yard, along with weeds, because she liked the color. So, if you have some yard work to do, then get to it and incorporate the clippings into your fall decor. 
Vintage Fall French Mantel Idea
Fall is my most favorite time of year to decorate with natural decor elements. And I love the way this French-inspired fall mantel does just that! And those beautiful pumpkins are DIY heirloom pumpkins she painted!
Fall Scented Candle Mantel Idea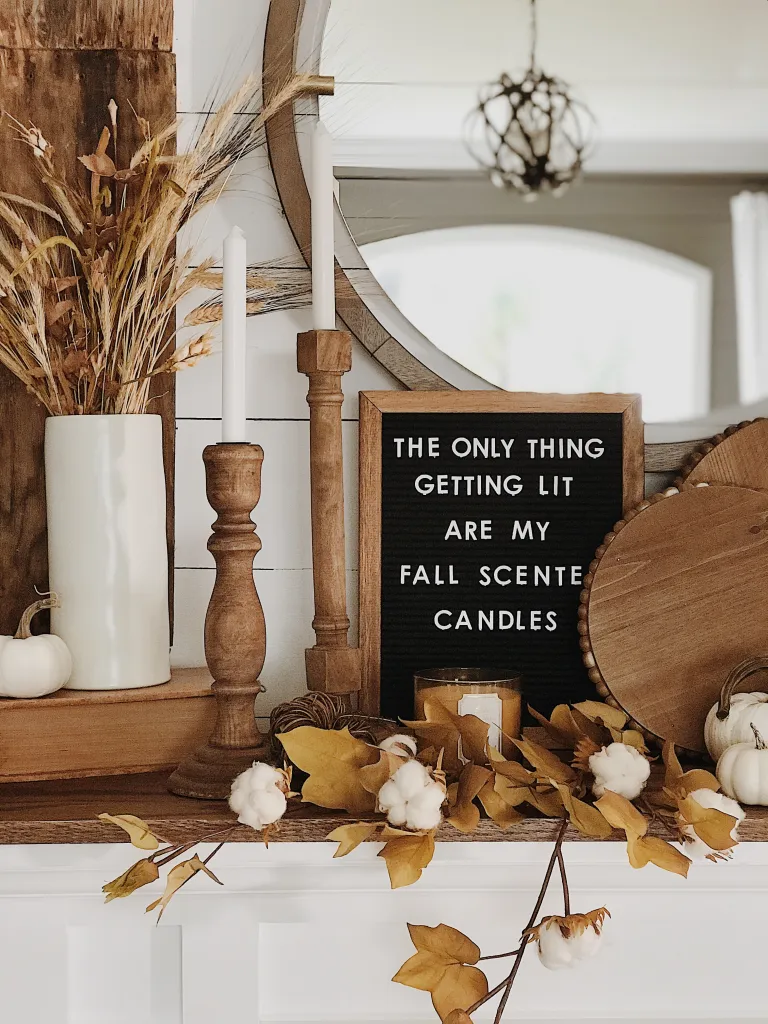 This fall mantel idea is a clever way to enjoy your favorite fall scented candle and make your guests laugh. Add a letter board to your fireplace mantel to share a fall joke or a heartfelt message. Then layer around it with a mix of faux and real pumpkins, a fall garland, vintage books, and candles, of course.
DIY Autumn Garland For The Mantel
Emily says this garland just might be her favorite fall DIY ever!! We farmhouse wives love to find things from nature to incorporate into our decor. And this garland is made mostly from things you can find in your yard, woods, or a nature walk.
Farmhouse Hearth Idea For Fall
If you lack ideas for what to put in front of the fireplace, this is what I did last year. First, I added a small accent table to the hearth area. Then I added baskets around the table. 
Next, I filled the baskets with various pumpkins, dried Indian corn, and fall stems. Then topped the table with wood and felt garland in a neutral color. And a large pumpkin on top and in front of the table. These pieces really helped frame the fireplace for fall gatherings.
Fall Faux Mantel Decor Idea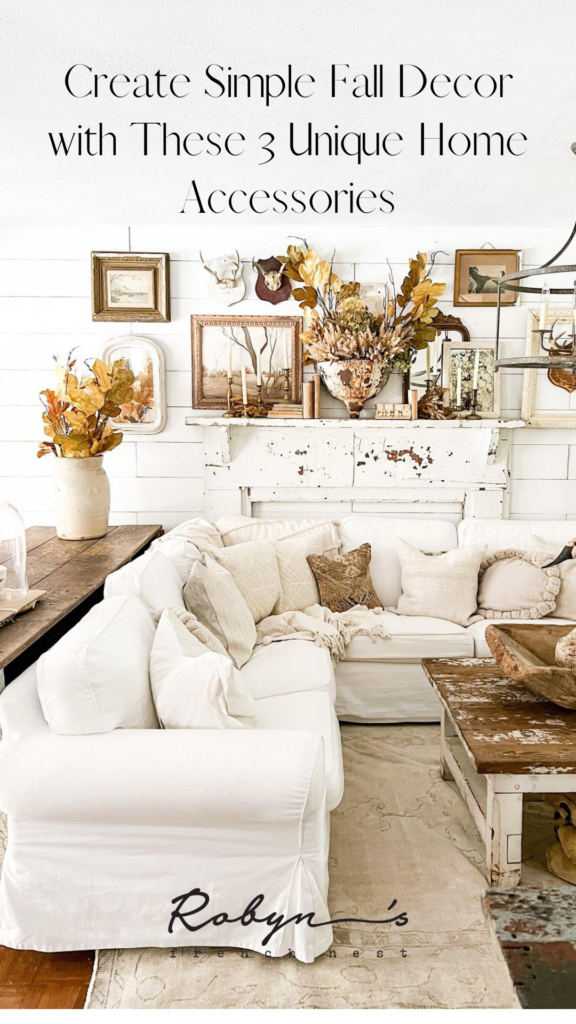 Fall is an especially fun time to decorate your home, even if your fireplace is fake! One thing Robyn loves about fall is that the colors lend themselves so easily to mixing in the old and new. So you can blend in the vintage patinas we love into your mantel decor and finish it all off with natural elements.
Farmhouse Fall Fireplace Hearth & Mantle Ideas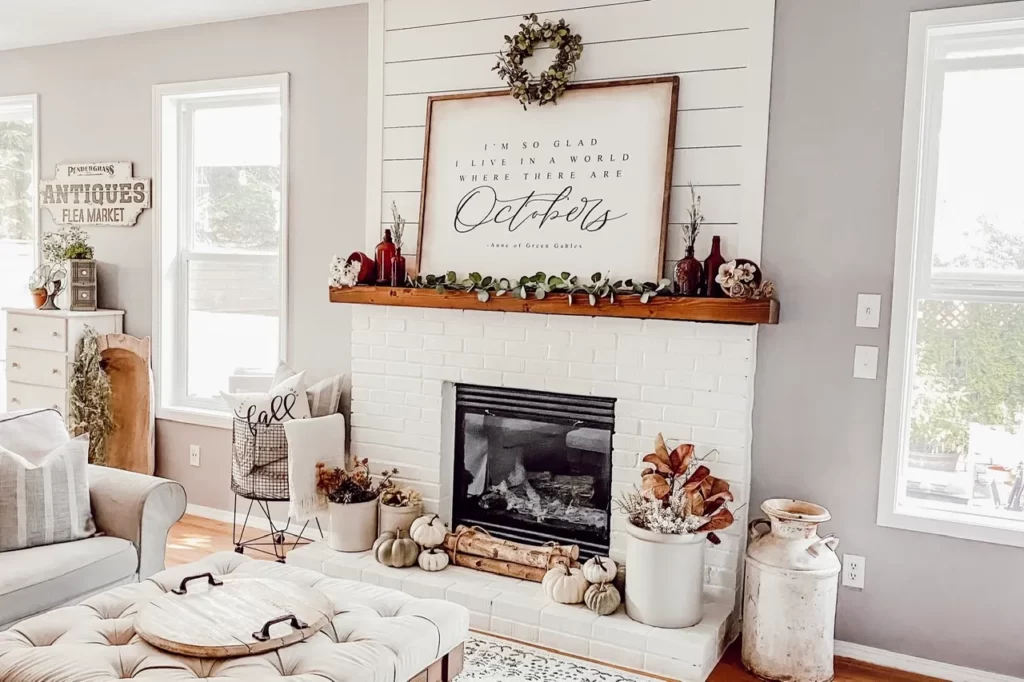 Decorating a neutral farmhouse fall fireplace, hearth, and mantle is simple and fun! You just need a combination of faux florals and containers to display them in, some faux pumpkins, a large fall farmhouse sign, and some small accent pieces in neutral and earth tones. 
Everything really comes together and is so well balanced in this fall fireplace idea. 
Fall Foliage and Scroll Fireplace Idea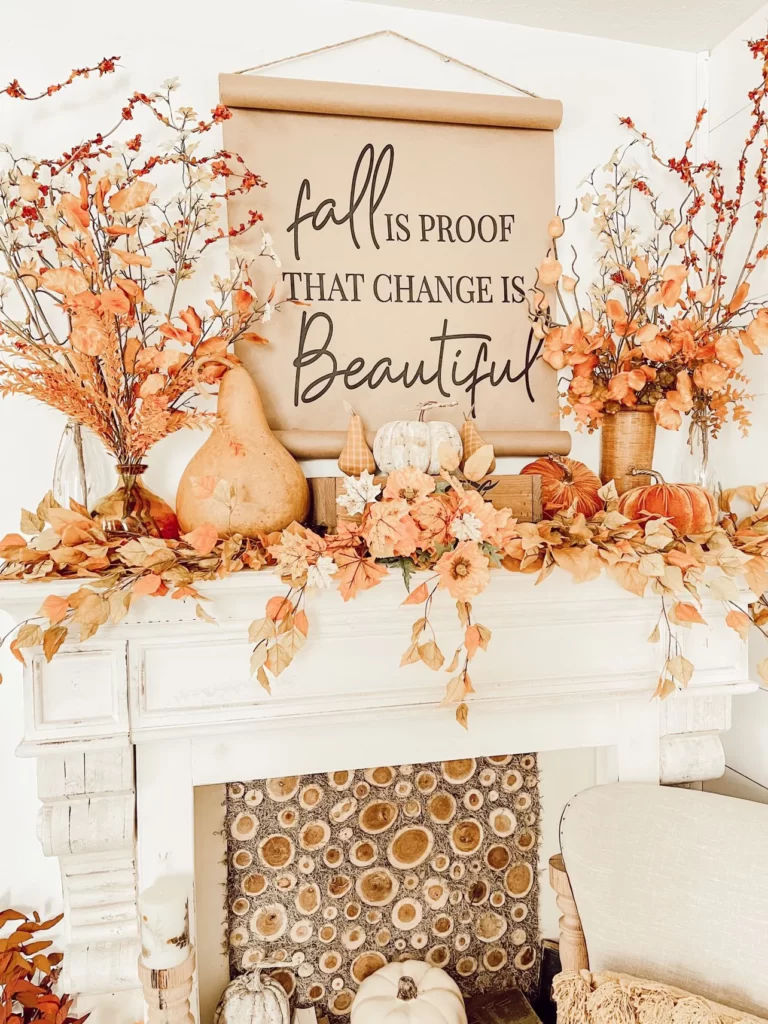 Are you looking for the perfect piece to add above your fireplace to fill unwanted empty wall space? Well, you can illustrate your love for fall with this unique handcrafted scroll layered with gorgeous fall foliage.
YOU MAY ALSO LIKE:
If you were stuck on what decor to put on a fireplace this season, I know you'll be humming with fall fireplace ideas now!
Pin your favorite farmhouse fall fireplace decorating ideas and tag #farmhousechicliving on Instagram to share yours with us.