Cozy Fireplace Candle Ideas For Your Mantel
Find cozy fireplace candle ideas for your fireplace mantel. Homemade candles, large pillar candles for fireplace decor, and more.
Is there anything more satisfying than walking into your living room after a long day of work and sitting down to a hot cup of tea and a cozy fireplace? I don't think so.
Something about that soothing warm aura makes it such a great place to unwind and detox after a long and tiring day. No matter the day I've had, I know the nighttime scenery of my fireplace will bring me home, where all the stress will melt off my shoulders like wax off a candle.
As someone who often enjoys changing up my decor here and there throughout the year, even with that interior designer itch, it's challenging to decorate the mantel. To each their own design preference, but coziness is unrivaled, in my opinion. How can you maximize your mantel space for coziness?
Read on to find inspiration to make your mantel cozy with a variety of ideas for homemade candles and fireplace decor.
This post contains some affiliate links; read the full disclosure policy.
How do you decorate a fireplace mantel with candles?
There's a multitude of ways you can go about decorating your fireplace with candles. From on the side to interlaced in the center, there are a lot of great ways to use candles on your fireplace mantel.
One of the ways you can use candles is to put them on a candlestick holder. Using candlestick holders, you can give candles an elongated look which is great if you're running out of space or want to incorporate tall candles.
How tall should candles be on a mantle? 
If you're wondering if there's such a thing as a candle too tall for the mantel, I can help. It's recommended not to have pillar candles taller than 12". Remember, candles are more like an accent than a main piece, so their goal is to amplify and accentuate the rest of your mantel decor.
It's also good to point out that a small votive or tealight candle would be lost on the fireplace mantel. However, placing small candles in a grouping can be just as beautiful as a tall pillar or taper candle.
Related To: 10 Farmhouse Fireplace Mantel Decor Ideas
How do you arrange fireplace mantel candles?
When it comes to decorating your fireplace mantel with candles, how you arrange them plays a very important role! The arrangement also depends upon where you put your candles and what else you have on your mantel or the look you're trying to achieve.
For example, if your goal is to show off the centerpiece (like a big family photo or art piece), try candles on either end. Place a tall candle on the outside of the centerpiece and a shorter one on the inside. This trick will lead the viewer's eyes center and really accentuate the piece of decor you want to show off.
Another great decor tip is to try using an odd number of candles. As it's known, an odd number of details is more effective at catching the gaze and forcing you to look around, which is the heart of visual interest.
Let's put these mantel decorating tips into action with the best fireplace candle ideas for any mantel, big or small!
Related To: DIY Votive Candle Holders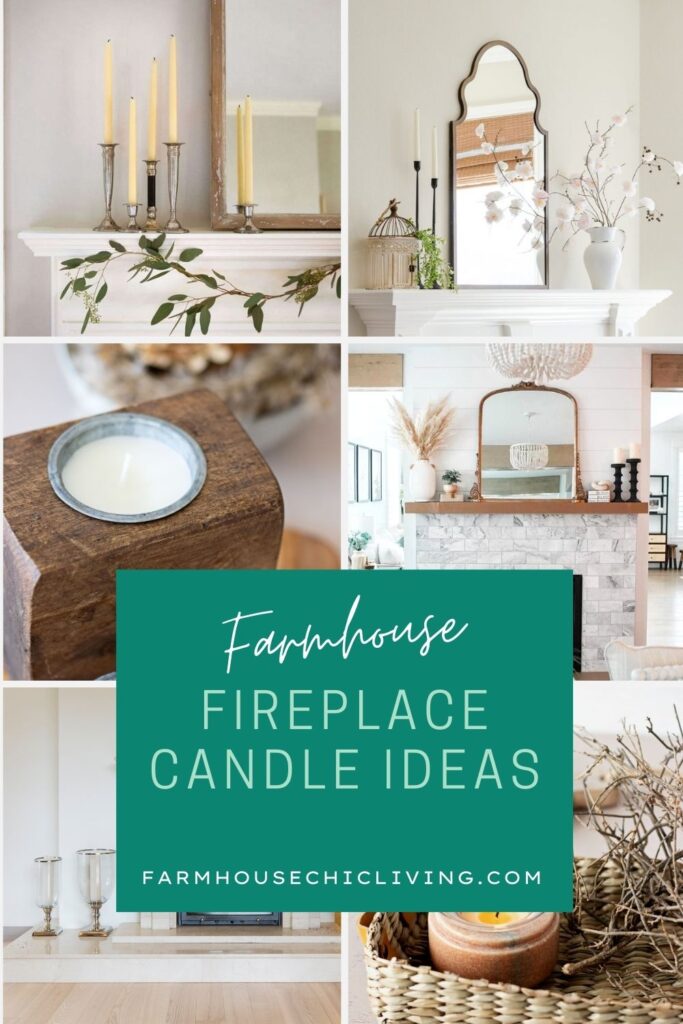 Cozy Fireplace Candle Ideas For Your Mantel That You'll Love
One of my favorite ways to create a cozy atmosphere is with candles, of course. Simple homemade candles, unique sugar mold and cheese mold candles, and large pillar candles all make beautiful fireplace decor. I know you'll find something to try for your mantel with these fireplace candle ideas!
Simple and Chic Farmhouse Mantel
This simple and chic fireplace idea can be achieved with layers of varying heights. The neutral color scheme with a pop of black from bold, chunky candle holders and a tall vase filled with real pampas grass brings much height to the ends of the mantel.  
The concrete rings add some depth, and I love the addition of the faux plant in the wooden pot. This fireplace candle idea is simple, but I think it looks great!
DIY Sugar Mold Candles
The classic farmhouse paring of rustic aged wood and imperfect metal of sugar mold candles appeals to so many. Even a single sugar mold candle can make a statement in any space as it fills a room with a warm, familiar scent, more so on your fireplace.
And when you make your own sugar mold candles, you can have the best of both worlds – nostalgia, and aroma.
Garland and Candles Mantel
If you're going for a woodsy to get that log cabin or forestry warm feel, a garland of any kind makes a great addition to your mantel. The one thing about it, though, is it's rather flat design-wise, and this is where candles come in! Mixing garland and candles on your mantel can make for depth in design.
Beeswax Tea Light Candles
They may be small, but these little beeswax tea light candles can have a big effect on any mantle space when used right. Place them in a trio of birch wood tea light candle holders, for example, to make a cozier impact! Or place them in lanterns in the corner of your mantel.
Airy Fireplace Design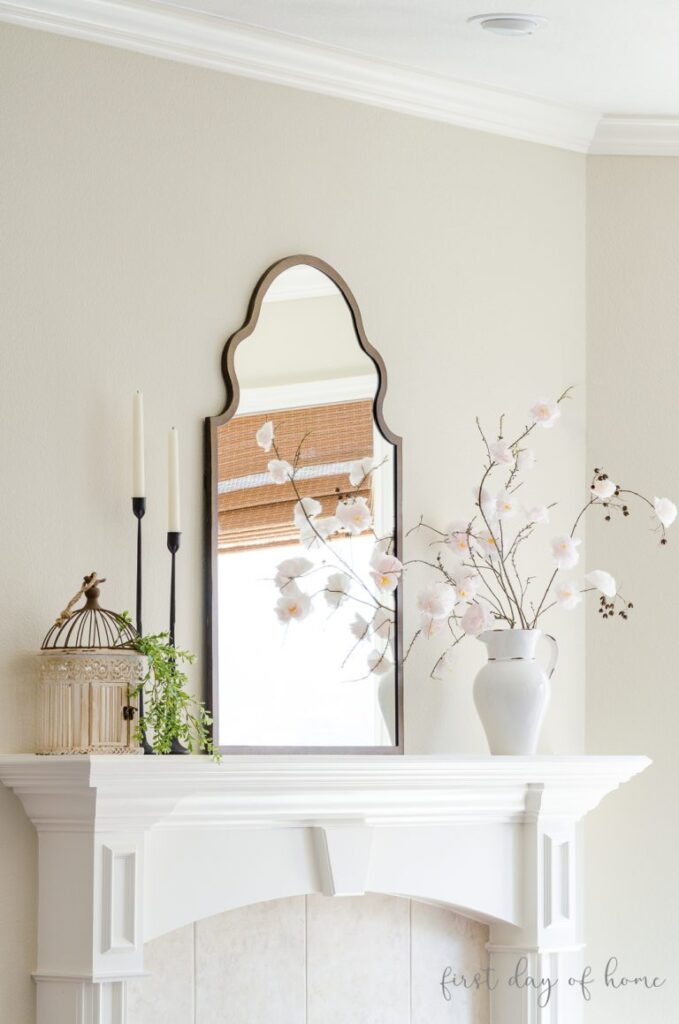 If you feel your fireplace mantel has too many things on it, try this airy design. 
I love how a few branches with DIY cherry blossoms look so dainty and pretty adjacent to the mirror. To balance the blossoms on the right side of the mantel, Chrissy added a touch of greenery in a birdcage and slender, tall candle sticks.
Combined, they give an airy feel of flora and fauna, don't you think?
Cheese Mold Candle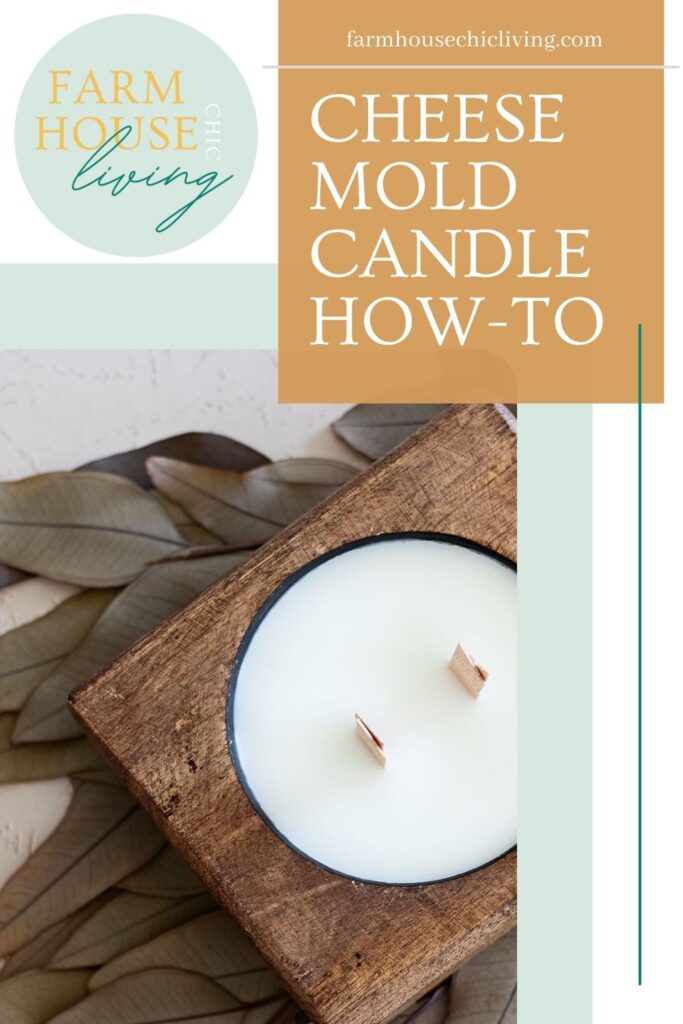 Hand-carved and imperfect cheese mold candles have all the charm that a farmhouse candle warrants. Creamy, smooth, scented soy wax and double-crackling wood wicks say it all. Place a cheese mold on your fireplace mantel with this tutorial.
Simple Beeswax Candlesticks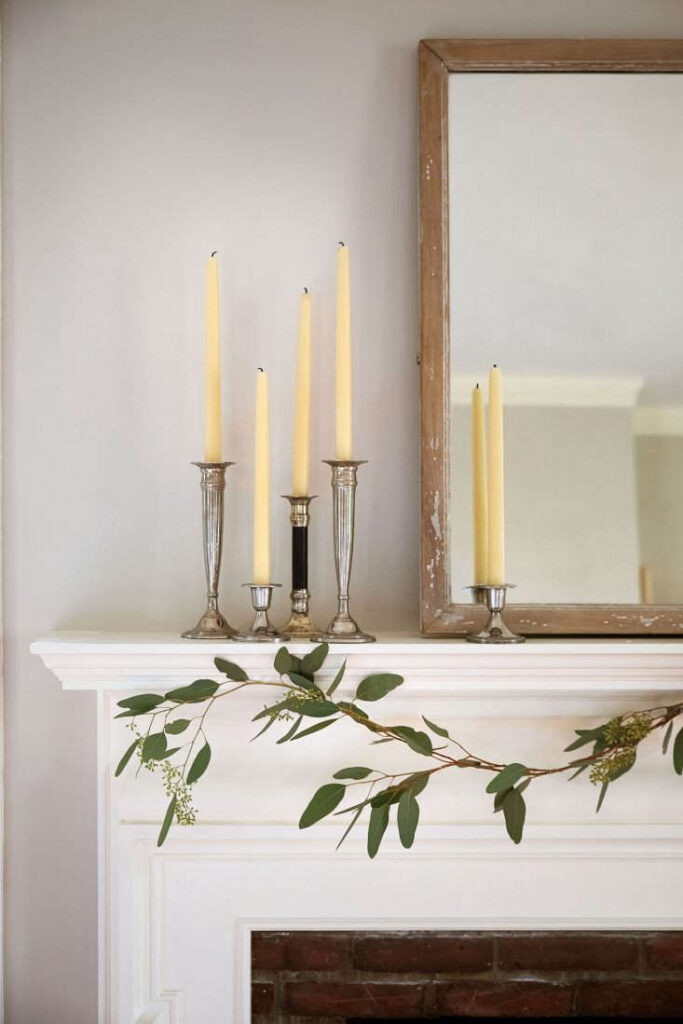 If you've been longing to change up your mantel, but your lifestyle is just so busy that you can't seem to find time to get around to planning your design change. (Much less time to do it!) Or, if you tend to be a mantel minimalist, you'll love this fireplace candle idea! 
Sometimes architectural beauty needs little enhancement. The silvery eucalyptus leaves of a gentle garland complement a grouping of sterling candlesticks with beeswax candles serving as a requisite "vertical element" while also adding a bit of bling. Learn how to create this with tips from the Gardenista. 
Farm Fresh Pine Candles
These farm fresh pine candles are an ideal farmhouse candle idea for your mantel. Experience the magical smell of a Christmas tree farm with these DIY candles! They are fun to make, and the cheerful green color in little glass jars adds to their appeal.
Rustic Farmhouse Mantel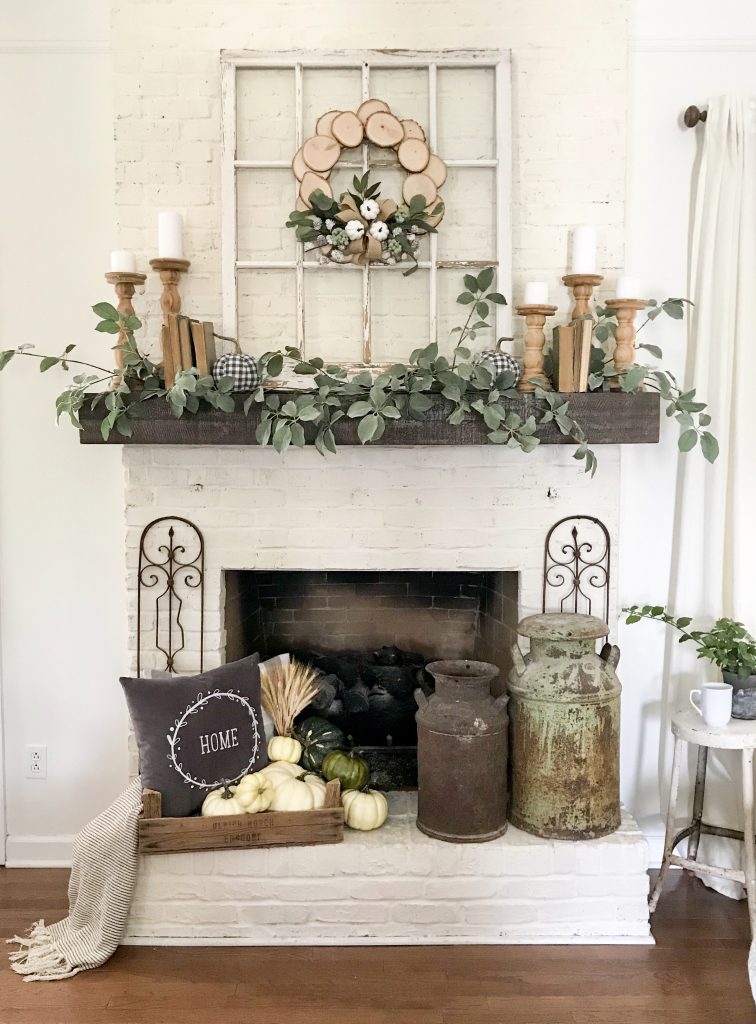 If you like lighter tones mixed with simplicity, this rustic farmhouse mantel is right up your alley. In this look, candles play a subtle but essential part, with different heights of candles and candle holders mixing with the rest of the pieces to make a stunning yet gentle-looking mantel!
Who said there was anything better than a cozy fireplace? Not me!
There's no time like the present to get farmhouse chic! Whether you came for inspiration or were stuck on how to decorate your fireplace, there are so many great ways to incorporate candles into your fireplace mantel.
MORE FARMHOUSE IDEAS:
Pin these fireplace candle ideas for the mantel to your farmhouse decorating Pinterest board, and Tag #farmhousechicliving on Instagram to share your ideas.