Farmhouse Fall Floating Candle Centerpiece Idea
Make this fall floating candle centerpiece idea in minutes! It's one of my favorite easy fall decorating ideas for our farmhouse.
Ah, fall on the farm—a season I eagerly anticipate year after year. There's an undeniable charm that descends upon our farmhouse as autumn paints the hills with warm, rustic hues. The crisp air means cozy evenings spent by the hearth (did you see my fall fireplace mantel?), the delightful aroma of baked goods filling our farmhouse kitchen, and the joy of embracing the beauty of the harvest season.
As the leaves begin their enchanting dance from green to yellow, orange, and red, I can't help but infuse our farmhouse with the warm embrace of fall. From the whimsical display of pumpkins and gourds adorning our entryway to the welcoming wreath on our front door, every element tells a story of the season.
But what really excites me are easy fall decorating ideas that effortlessly enhance the charm of our home. If you loved my previous tips for transforming your ordinary candles into farmhouse fall candles, you'll enjoy this simple fall DIY too!
It's a captivating fall floating candle centerpiece that you can make in a matter of minutes! You'll gather several floating candle ideas for fall. As well as step-by-step instructions to create homemade floating candles with soy wax. And I'll cover tips to ensure that your centerpiece looks enchanting and embodies the scents of fall!
For your convenience, this post contains some affiliate links; read the full disclosure policy.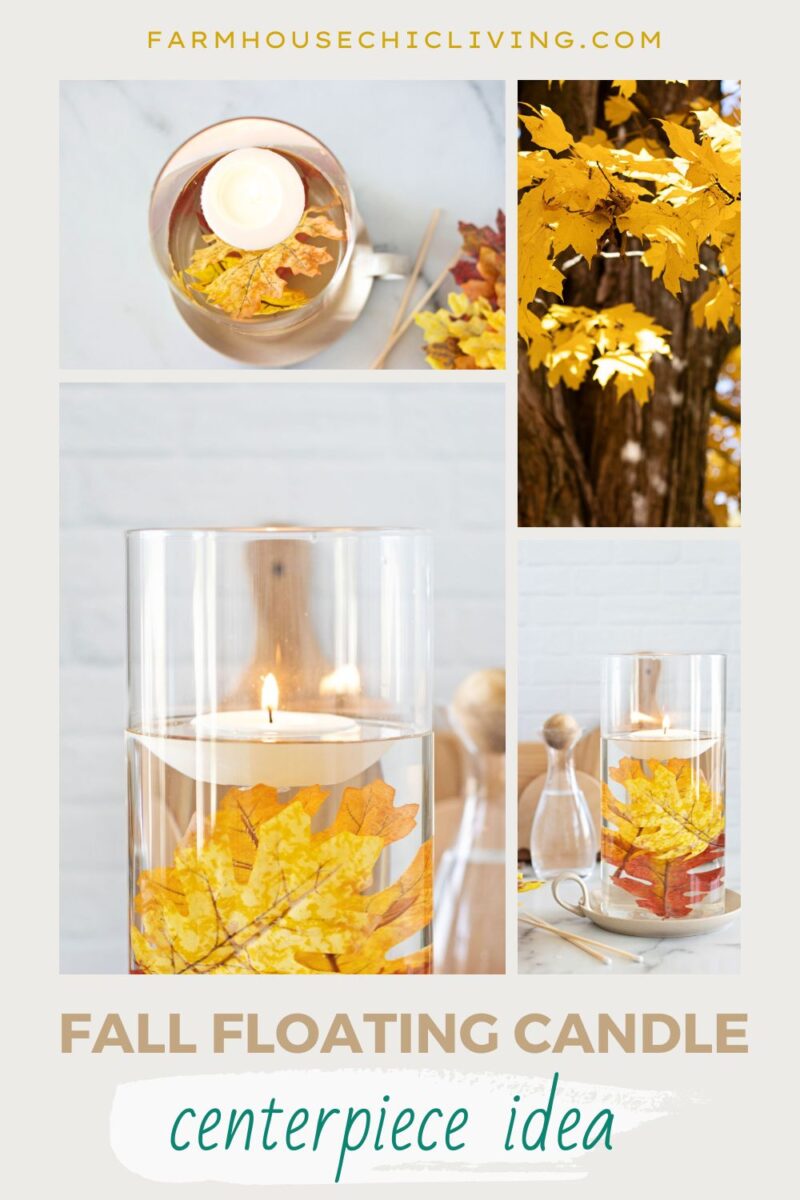 Gathering Your Floating Candle Centerpiece Supplies
When it comes to changing our decor for fall, a great place to start is the farmer's market. You'll find a vibrant tapestry of colors to mirror the outdoors inside easily. Look for a container you could use for floating candles, like mason jars or glass vases. 
Then hunt for colorful pumpkins, gourds, or Indian corn. And bring home apples and oranges to dry in the oven. All can enhance the styling of your floating candle centerpiece.
Another option is taking an autumn walk, picking up fallen acorns, hedge balls, or fall leaves. Sometimes it's best to snip a slim tree branch or two of changing leaves to preserve. All it takes is placing the leaves between two sheets of wax paper and applying gentle heat with an iron on a low to help seal the color and preserve the leaves! 
Or, if you're as eager as I me and don't want to wait until the leaves change, you can add some silk or fabric leaves from your crafting stash.
Related To: Fall Candles for Farmhouse Fall Decor
Creating An Enchanting Glow With A Fall Floating Candle Centerpiece
As the daylight begins to wane and the first stars twinkle in the night sky, your floating candle centerpiece will take center stage illuminating your farmhouse with its warm, enchanting glow. Here are a few ways you can enjoy this floating candle idea:
Harvest Dinner By Candlelight
The allure of dinner parties by candlelight during the fall season is undeniable. Picture a harvest dinner party, where friends and family gather around the table, bathed in the soft, flickering candlelight that complements the farm-to-table dishes.
The atmosphere is nothing short of magical, a visual feast fostering an inviting ambiance that beckons everyone to linger a little longer and savor the moment.
Fall Family Movie Night
The reflection of the candles in the water adds depth and dimension to your centerpiece. It's as if the colors of fall are dancing upon the surface, creating a mesmerizing display that mirrors the beauty of the season.
It's the perfect setting for a fall family movie night watching Hocus Pocus or a girl's night watching Practical Magic! 
Cozy Autumn Evenings
But it's not just about special occasions; your fall floating candle centerpiece can transform ordinary evenings into a satisfying cozy experience. Curl up with a good book in your favorite farmhouse nook, nibbling on warm pumpkin bread as you turn the pages while the gentle flicker of the candle casts an enchanting spell. 
However you bask in its glow, you'll be reminded of the timeless allure of farmhouse living—a lifestyle that cherishes the beauty of the every day and finds magic in the mundane.
With your fall floating candle centerpiece, you'll illuminate your home and your heart with the warmth of fall.
Related To: Incredibly Easy Fall DIY Wax Melts
Crafting Floating Candles
Now that you have several floating candle ideas for what to include and ways to enjoy your centerpiece let's start crafting the candles!
Candles are the heart of any floating candle display. One of the things I adore about this season is the opportunity to indulge in all the yummy aromas. By creating scented floating candles, we can give a subtle yet profound shift to usher in a sense of warmth and nostalgia. 
(If candle making is beyond your crafting skills, you can purchase floating candles or use tea lights to make your own using my floating candle hack. Then scroll down to my tips for creating your centerpiece.)
Floating Candle Supplies:
1 pound soy candle wax
1 ounce of candle fragrance (see the scent recipe below)

DIY Floating Candle Instructions
1. Measure Wax
Use a kitchen scale to measure 1 pound of soy wax flakes to make six floating candles.
2. Melt Wax
Pour your measured soy wax into a candle melting pitcher to safely melt the wax. Place the pitcher filled with wax inside a large saucepan filled with 2 inches of water. Use the double boiler method to heat on medium to low heat up to 160 degrees.
Monitor the temperature of the wax easily with an infrared thermometer. And stir often with a heat-resistant silicone whisk or spatula.
3. Cool & Scent The Wax
Immediately remove the pitcher from the heat once the wax is melted. Monitor the temperature of the wax until it's 125 degrees to add the fragrance.
There's nothing like a freshly made donut rolled in sweet cinnamon sugar dipped in hot apple cider. This fall candle scent recipe will have you running to your local donut shop or standing in line for a warm apple cider donut at the pop-up fall market.
Add the yummy fall candle scent by using this recipe for a total of an ounce of fragrance. Stir slowly for a constant 2 minutes after adding all the scents.
Campfire Donuts Scent Recipe
20% = 0.20 ounces vanilla essential oil or warm vanilla sugar oil
10% = 0.10 ounces almond oil
30% = 0.30 ounces cinnamon essential oil
40% = 0.40 ounces apple oil
4. Pour Wax
For the wax I used, once it lowers to 115 degrees, it's ready to pour. Slowly fill each dome of the silicone mold and place an optional centering device over each wick to help keep them in place during the curing process.
5. Cure & Trim Wicks
Because these floating candles are scented, it's best to wait 3 to 7 days before using one. Trim the candle wicks to ¼ of an inch and remove the centering devices before lighting. 
Tips For Setting the Fall Farmhouse Scene with Your Centerpiece
Follow these tips for creating a unique farmhouse charm and ambiance with your candle display this season.
Choosing the Perfect Location
Consider these options when selecting the ideal spot for your floating candle centerpiece:
Dining Table or Sideboard – If you seek to infuse your dining experience with a fall farmhouse flare, your dining table or sideboard is the perfect stage for your fall floating candle centerpiece. Here, it becomes the centerpiece in every sense of the word, casting its warm glow over shared meals and lively conversations.
As the candles flicker, they enhance the beauty of your farmhouse dining area, creating an atmosphere that is both intimate and inviting.
Hearthside Warmth – For a farmhouse touch that exudes warmth and coziness, consider placing your fall floating candle centerpiece above the hearth on your fireplace mantel.
The juxtaposition of the flickering candles against the rustic backdrop of a fireplace creates a captivating contrast. It's an invitation to gather 'round the fire, savoring the comforts of fall!
Kitchen Island – Don't overlook the charm of your farmhouse kitchen. The kitchen island provides an excellent stage for your fall floating candle centerpiece. As you prepare meals or gather with loved ones, it is sure to infuse your kitchen with a warm, inviting glow.
Whichever area you choose, make sure it's a solid, stable surface and out of reach from the kids or dog.
Adding Final Flourishes
To extend the allure of your floating candle centerpiece, it's time to add those final flourishes that accentuate its farmhouse-inspired charm.
Place and Fill Your Vessel – Once you select your spot to feature this beauty, place your vessel on top and fill it three-fourths with water. 
Embrace the Harvest's Bounty – Incorporate the elements from the harvest season you brought home from the farmers market. Place small pumpkins, gourds, or Indian corn, around your centerpiece.
Include Seasonal Foliage – Next, add the seasonal foliage you collected. If it fits, you can insert a whole branch into your vessel or add a handful of leaves. Nestling these natural accents inside your floating candles mirrors the beauty of the outdoors, capturing the vibrancy of changing leaves and the simplicity of farmhouse living. 
Placing The Floating Candles
With your centerpiece taking shape, it's time to add your floating candles!
Ensure they are spaced within the container, allowing ample room for the flickering flames to dance and reflect off the water's surface.
Depending upon the size of your vessel, you may be able to fit a single candle like me or all six we made. Before lighting any candles, make sure the leaves you added are under the water and not near a candle wick. 
Simplicity is key when it comes to farmhouse chic living. This fall floating candle centerpiece idea embodies this principle, creating simple autumn decor with ease. It's a testament to the beauty of fall and the art of farmhouse decor. 
MORE FARMHOUSE DIYS:
Pin this fall floating candle centerpiece idea to your Fall Pinterest Board and tag #farmhousechicliving on Instagram to share your ideas.